FG's Closure Of Onnoghen's Assets Declaration Case Attracts Reactions From Nigerians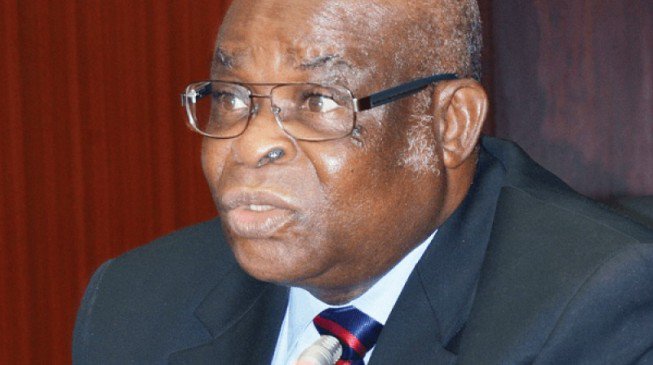 The Federal Government led by President Muhammadu Buhari has closed its case against Justice Walter Onnoghen, suspended Chief Justice of Nigeria (CJN).
Naija News reports that the Federal Government closed the case on Thursday after calling three witnesses to the stand.
Aliyu Umar, counsel to the government, at the Code of Conduct Tribunal (CCT) on Thursday, announced that they closed the case despite the fact that they had initially listed six witnesses.
The counsel to the government said the three other witnesses could still be called to the stand if the defence wants to cross-examine them.
The new development has since stirred reactions online from Nigerians. See some Twitter comments below:
Buhari cooked up false allegation against a sitting Chief Justice Onnoghen, just to rig election.

Buhari admin conspired with criminals to implicate a sitting Senate President for armed robbery.

Buhari admin stole the Nigerian People's Mandate from Atiku.

It's a big shame!

— Somto Onuchukwu (@chosensomto) March 21, 2019
They just wanted a photo of the CJN in the dock to humiliate him so they can use those images and show illiterate supporters that a CJN is corrupt and Buhari is not. Remember when they lied Yusuf fell from Okada. CJN Onnoghen should sue the FG for N50B as damages.

— ThankGod Ukachukwu (@kcnaija) March 21, 2019
1st, the govt of @MBuhari sought on 9 Jan to remove Chief Justice Walter Onnoghen b4 it even drew up charges on 10 Jan. Now, it turns out they contrived to seek his removal on basis of asset forms that CCB hadn't even verified to begin with. Seriously?!https://t.co/qqO7LxcAt8

— Chidi Odinkalu (@ChidiOdinkalu) March 21, 2019
Now that all the FG witnesses have failed to implicate Hon. Justice Walter Onnoghen, CJN,can @MBuhari tender an unreserved apology to him & all Nigerians for lying against the CJN & desecrating the Judiciary? Can Danladi resign for his infamous conduct as Chair of the CCT? FRAUD!

— ONU-ATIKU 2019 (@sjonu) March 21, 2019
Not only that, the Director also said the CCB hasn't verified assets declared by Onnoghen. The question then is, how do you declare false what you haven't verified? https://t.co/nTWZwwwdPJ

— Edward Israel-Ayide (@wildeyeq) March 21, 2019
This is all of Onnoghen's accounts balance not upto $200k equivalent N70m and can't buy 2019 model Gwagon. Yet they are trying to damage a meritorious service of several decades to our Nation https://t.co/h4qYShdXDs

— Olushola Olufolabi (@olushola_shola) March 21, 2019
CJN Onnoghen owns only 5 houses, not 55 and one of the houses was given to him by the FG,
Ex-CCB Director tells CCT today#ME:
Where are our APC loudmouth?

— Lere Olayinka – Aresa 1 (@OlayinkaLere) March 21, 2019
#Nigerians were told Chief Justice Walter Onnoghen owns only 55 houses. The evidence now shows that was deliberate falsehood. And that doesn't scratch the surface of the lies… https://t.co/eTcBeBos8h via @Nigerialawyers

— Chidi Odinkalu (@ChidiOdinkalu) March 21, 2019
Former staff of Code of Conduct Bureau told the Tribunal that CCB did not verify Onnoghen's Assets declaration forms since 2016. But a desperate Buhari and his goons rushed to charge the man to court. This is just how the whole case would collapse!

— Jackson Ude (@jacksonpbn) March 21, 2019
Gosh! So some people actually believe that when the prosecution "closed its case" on #Onnoghen, it means the case is over and Joe Abah should apologise to him? Gosh. I hereby close my case and apologise for having an opinion! ?

— Dr. Joe Abah (@DrJoeAbah) March 22, 2019
When I remember Dr Joe writing a thread about how #Onnoghen should resign 'honourably' because his no doing so was going to hurt him and his image, I knew the problems the man was facing were not small.

— Cruce † (@ememesi) March 21, 2019
Declared assets: @ProfOsinbajo has N94m, $900,000
– Attorney General of Lagos (Saint)

Declared assets: #onnoghen has N38m $184k – Chief Justice of the federation (Thief)

— Emmanuel udombon (@EmmanuelUdombon) March 21, 2019