Mob Sets Ablaze Suspected Criminal, Vandalises Police Station In Kwara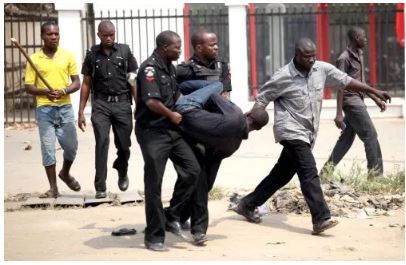 An angry mob on Wednesday set ablaze a suspected criminal in Oro town in Irepodun Local Government Area of Kwara State.
Naija News reports that the suspect was mobbed and set ablaze after the residents in the area identified him to be allegedly responsible for the criminal activities in the area in recent times.
The mob did not only stop at burning the suspect to death, but the mob of angry residents also went ahead to vandalise the Police station in the area.
Naija News understands that the deceased suspect whose name was given as Femi Tete was arrested by the Police in the state for allegedly committing a crime in the area.
Upon getting this information that Femi Tete has been in the Police net, the mob which consists of motorcycle operators in the area invaded the Police station and requested that Femi Tete is released to them for 'proper punishment.'
The Police authorities in the area in their act of professionalism maintained that Femi would not be released but that the Police would handle the case the professional way they ought to. While the mob of motorcyclists insisted on getting Femi Tete, the operatives of the Police were said to have shot into the air in a deliberate attempt to disperse the crowd of the angry mob.
Angered by the manner at which the officers decided to discharge the crowd, the mob attacked the police station, vandalised the station and rescued Femi Tete who they brunt to death on the spot.
This News platform understands that the angry mob of motorcyclists alleged that Femi Tete had been responsible for the recent criminal acts in the area.
The mob alleged that Femi was responsible for the most recent criminal act that occurred on Sunday when a motorcyclist was lured into the bush, robbed, and lost his motorcycle to his attackers. The attackers were alleged to have gone ahead to kill their victim.
While confirming the incident, the Police Public Relations Officer, Ajayi Okasanmi said the mob attacked the police station because the police wanted to prevent jungle justice.
He said while the remains of the deceased suspect have been deposited in the mortuary of General Hospital in Omu-Aran, the police have commenced investigations into the matter.
Source: Naija News