Lagos PDP Seriously Angry With Agbaje, See Why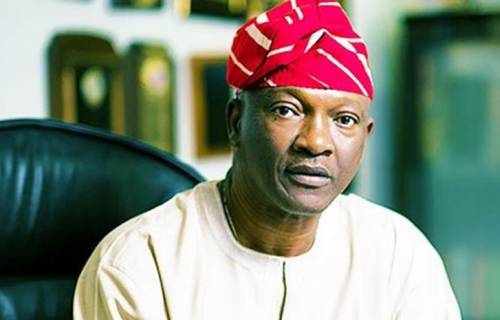 The political war between the director-general of Peoples Democratic Party, PDP, Chief Layi Ogunbambi and the party's governorship candidate,  Jimi Agbaje in Lagos state has reached a new dimension.
The new development follows the party's poor showing in the recent governorship election and the quick acceptance of defeat by Agbaje.
While speaking at a post-mortem of the election organized at the Luggard Avenue residence of party leader, Chief Bode George two days ago, Chief Ogunbambi accused Agbaje of being unserious with is aspirations and making it impossible for those who had similar interest from pursuing the goal.
However, Agbaje who struck back, drew reference from his repeated attempts at the governorship and his Afenifere background to accentuate his commitment to the governorship.
Party sources at the meeting where Agbaje and his running mate, Mrs. Haleemat Busari were present expressed disappointment that Agbaje was not remorseful especially in the light of the sunken hope of the 40 House of Assembly candidates.
"Let me quickly seize this opportunity to thank our leader, Chief Bode George, immensely for the confidence reposed in me all the time since l became a member of Lagos State PDP. l was duly sworn in as DG of Atiku campaign council at the Party Secretariat in Ikeja and curiously Jimi Agbaje never called me to discuss with me the operations and work schedule of my office.
"There was no template for harmonization of his group with the legitimate organ and structure at the party office in Ikeja. With his rigid application of dogma, it was patently obvious that he was not going to work with me and the party on 2019 general elections.
"ln fact, he made it clear to many and even went on social media to put on record that he was not going to have anything to do with me as the DG. l spoke with him several times on the phone in my attempt to diplomatically bring some focus and sanity to his ego without any success," Ogunbambi alleged at the meeting.
"The stagnation remained substantially the same to date. Jimi was emphatic when he said publicly that Leke was his DG because he needed somebody he could control just like he wanted to control the entire party with his inner core group that has done more to disfranchise the Party in Lagos State for years now," Ogunbambi said.
"My issue with Jimi is not about Ceaser and Brutus. It is about a man supported with my time and money in 2015 and 2019 and later discovered that he was nothing but a serial politician coming every four years to use our Lagos PDP platform to amass enormous wealth for himself.
Countering the claim yesterday, Agbaje speaking through his media aide, Felix Oboagwina said:
"Well, that is not true. If you know Jimi Agbaje he has been in the struggle from the days of June 12 when he was treasurer of Afenifere and was somebody who stuck out his neck for the enthronement of democracy, and such cannot be said to be an unserious minded person.
He was forced out of AD in those days when Bola Tinubu did what he did and imposed his candidate, "(Babatunde) Fashola on the party and you would recall that many of them left including Obanikoro and many other people like Tokunbo Afikuyomi.
"So, he had always had the ambition. If a level playing field were allowed in those days, he would not have left that party, and he went into DPA and contested. DPA was not a wealthy party, but he used his resources and his name and his brand to promote the party in those days.
"So, he has a history and that history is that of a credible person who is serious-minded, who is visionary and who wants the welfare of the land and people of Lagos State. Whoever is saying that he is an unserious person is himself unserious and very shallow minded," he said yesterday.