Minimum Wage: Senate Committee Reveals When It Will Submit Report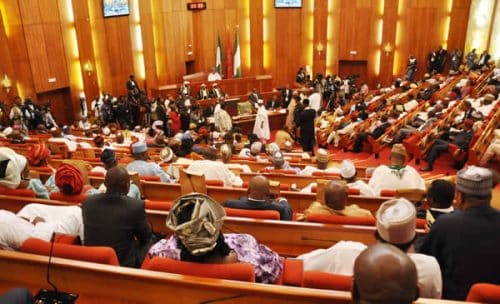 Senate Commences Work On New Minimum Wage
The members of the Senate committee on the passage of the new national minimum wage bill held their first sitting on Wednesday with a promise to submit their report by Tuesday next week.
The Senate President, Bukola Saraki, had appointed the Deputy Majority Whip, Senator Francis Alimikhena, to replace Senator Olusola Adeyeye who voluntarily withdrew as chairman of the committee on health grounds.
Alimikhena assured Nigerians that the committee would fast track its work and ensure the report is submitted at plenary next week Tuesday.
Meanwhile, a member of the panel, Senator Solomon Adeola (APC, Lagos West), has called for the review of revenue allocation formula by the Revenue Mobilisation and Fiscal Allocation Commission as a way to guarantee that all tiers of the government can pay the recommended N30,000 new minimum wage.
He said, "I am in support of the recommended minimum wage as it will go a long way in cushioning the challenges faced by workers. However, there must be no excuse for non-implementation by any tiers of government across the federation.
"It is in this wise that I call on the Revenue Mobilisation and Fiscal Allocation Commission to begin a process that will lead to the review of the Revenue Allocation Formula for all tiers of government to be able to pay the minimum wage when passed into law."