Nigerians React To Lagos Island School Building Collapse (Videos)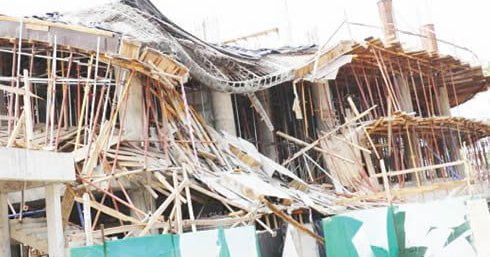 Several primary school pupils were feared dead on Wednesday after a three-storeyed school building collapsed in Lagos, Nigeria's commercial city.
Naija News learned that the school building located at Ita Faji, Lagos Island, collapsed around 10 am. The school was said to be on the last floor.
Over 30 children have been pulled out of the wreckage, with 10 confirmed to be alive.
It was gathered that locals had to commence the rescue of residents of the building before Lagos State and Federal rescue agencies arrived at the scene.
However, Nigerians have taken to microblogging site, Twitter, to react to the sad news.
3 storey building collapses at Itafaji, Lagos Island. Efforts are in progress to rescue victims still trapped in the rubble. #TheGoodGuys pic.twitter.com/uaUe41ao4K

— Lagos State Police Command II (@rrslagos767) March 13, 2019
Rescue operations or organizations should be in Lagos Island already instead of letting unprofessional personal drag kids out of the collapse building.

— ROSCKY|BEAM (@itsRDi) March 13, 2019
https://twitter.com/imoleayomichael/status/1105818128414658560
https://twitter.com/FadedGlory20/status/1105817005410734080
https://twitter.com/iSlimfit/status/1105800192887058432
My heart goes out to the families of the school children & teachers that suffered the building collapse in Lagos island. May God see you guys through this very tough time.

— Ik Osakioduwa (@ik_osakioduwa) March 13, 2019
In situations like this we can only hope for the best a 3 storey building collapsed at Itafaji, Lagos Island. Efforts are in progress to rescue victims still trapped in the rubble. Let's put all of them if our prayers. There was a school in the building with kids in it.💔😞

— IGALI (@Divine_Igali) March 13, 2019
God save Nigeria….
God save Lagos island…#itafaji #lagosisland pic.twitter.com/syIHtJGUPE

— Yetqueen (@Yetqueen17) March 13, 2019
UNTIL Government & the People go hard on standards of these buildings & so called "developers" in Lagos Island … Building Collapse scenes have already turned to normal scenes for us in Lagos Island & looks like it wont stop … So sad. 😢 pic.twitter.com/k4F3olbNxu

— Jubril A. Gawat (@Mr_JAGs) March 13, 2019
https://twitter.com/EffaEkun/status/1105799828062302208
https://twitter.com/motivatedgeorge/status/1105798263343591424