Breakdown Of Akwa Ibom Governorship Election Results From All LGAs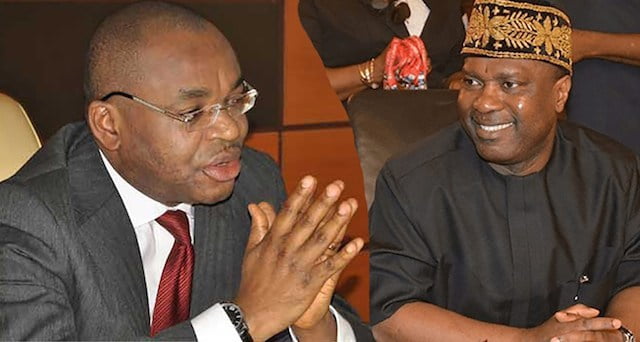 Naija News has obtained the breakdown of the governorship election results recorded in all the local government areas in Akwa Ibom state.
This online news platform reports that the Independent National Electoral Commission (INEC), commenced the governorship and House of Assembly elections at exactly 8 am on Saturday, March 9, amidst tight security.
The governorship election took place in 29 states while state assembly polls held in all the nation's 36 states.
INEC declared Udom Emmanuel, the candidate of the People's Democratic Party (PDP), the winner of the governorship election held on Saturday, March 9, 2019, in Akwa Ibom state.
According to the results declared by INEC, Emmanuel won the election in 30 out of 31 local government areas of the state to return to hilltop mansion for a second term in office.
The governor polled a total of 519, 712 votes to emerge, winner, defeating his closest Challenger, Obong Nsima Ekere of the All Progressives Congress (APC), who scored a total of 171, 978 votes.
Declaring Emmanuel winner of the gubernatorial election in Akwa Ibom state, the Vice Chancellor of the University of Benin, professor Faraday Osarere Orumwense said, "I hereby certify that I was the returning officer of the Akwa Ibom state governorship election held on March 10, 2019.
"Udom Emmanuel of the PDP having satisfied the requirements of the Law and scored the highest number of votes, I hereby declare Udom Emmanuel the winner and returned elected," he added.
Below is the breakdown of the results from all LGAs:
Akwa Ibom – Udom Emmanuel (PDP)
Ibeno LGA – APC: 1,442 PDP: 10,008
Urue Ofong Oruko LGA – APC: 4,592 PDP: 6,915
Nsit Ubium LGA – APC: 6,004 PDP: 17,863
Okobo LGA – APC: 6,079 PDP: 10,800
Esit Eket LGA – APC: 3,913 PDP: 13,290
Onna LGA – APC: 2,110 PDP: 32,103
Uruan LGA – APC: 5,192 PDP: 12,895
Nsit Atai LGA – APC: 3,783 PDP: 8,855
Ikot Abasi LGA – APC: 7,549 PDP: 9,335
Obot Akara LGA – APC: 4,704 PDP: 13,979
Uyo LGA – APC: 12,549 PDP: 35,092
Abak LGA – APC: 11,505 PDP: 17,461
Ini LGA – APC: 3,316 PDP: 17,335
Nsit Ibom LGA – APC: 4,816 PDP: 17,326
Mbo LGA – APC: 5,419 PDP: 9,631
Eket LGA – APC: 5,087 PDP: 26,372
Oruk Anam LGA – APC: 8,640 PDP: 35,093
Itu LGA – APC: 5,911 PDP: 14,633
Esit Eket LGA – APC: 3,917 PDP: 13,290
Ukanafun LGA – APC: 7,220 PDP: 35,447
Etinan LGA – APC: 8,089 PDP: 22,954
Ibesikpo Asutan LGA – APC: 7,179 PDP: 15,679
Udung Uko LGA – APC: 2,108 PDP : 4,036
Mkpat Enin LGA – APC: 4,769 PDP: 18,056
Ika LGA – APC: 3,212 PDP: 12,752
Oron LGA – APC: 3,859 PDP: 8,433
Ibiono Ibom LGA – APC: 7,820 PDP: 36,988
Ikot Ekpene LGA – APC: 11,240 PDP: 14,832
Etim Ekpo LGA – APC: 2,776 PDP: 10,149
Eastern Obolo LGA – APC: 1,914 PDP: 10,780
Ikono LGA – APC: 4,498 PDP: 18,910
Source: Naija News