Troops Kill 55 Bandits, Arrest 24, Recover Weapons And Rescue 760 People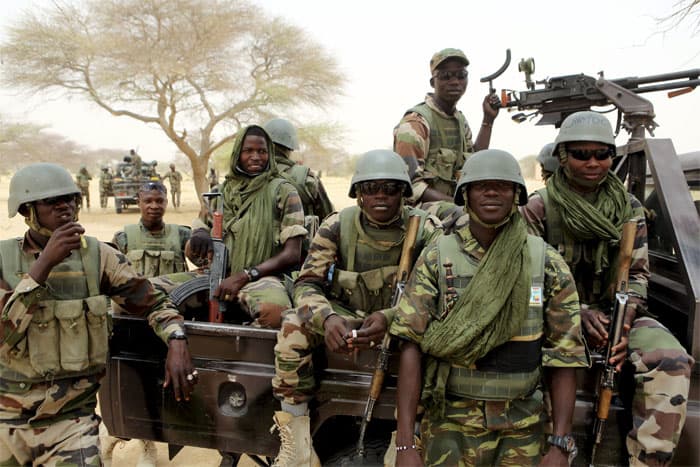 Troops Lose Personel In Zamfara Banditry Operation
Not less than 55 bandits have been killed by troops of operation Sharan Daji of Nigerian Army in continuation with operations designed to end banditry activities in Zamfara and other States.
The troops also arrested not less than 24 suspected bandits informants, rustlers, kidnappers, logistics suppliers were also apprehended during the period of the Operations.
This was made known to Naija News in a statement signed by acting force information officer, Major Clement Abiade and released to the Journalists in Sokoto.
According to him, "The intensity and redoubled efforts in the conduct of these military activities in the past week has achieved tremendous successes leading to the recovery of weapons, ammunition and rustled cattle.
"The troops also had several encounters with bandits during the period in focus and neutralized 55 bandits. A total of 24 suspected bandits informants, rustlers, kidnappers and logistics suppliers were arrested during the period in focus.
" The suspects have been handed over to Nigerian Police for investigation and possible prosecution.
"Similarly, the Air Component of operation SHARAN DAJI carried out several Air strikes around Kagara, Gando, Fankama, Fete and Dumburum Forests. Subsequent operations in the Forests led to the rescue of 760 abductees. The abductees consisted of men, women and children from communities in Zamfara State.
" Troops of Operation SHARAN DAJI recovered 4 AK47 rifles, 1 Rocket Propelled Gun Tube, 12 Dane guns, 27 AK47 Magazines, 168 rounds of 7.62mm (Special) ammunition, 1 Pump action gun, 47 Motorcycles, a Golf wagon car, 61 rustled cattle's, 3 pounds of marijuana, nicotine and Tramadol during the period under review".
" It is pertinent to state here that the troops sustained operation led to the return of over 1000 IDPs from Maru to BINI village on 17 February 2019. The Emir of Maru Alhaji Abubakar Chika Banagan Maru and the Chairman Maru LGA Alhaji Salisu Isah Dangulbi were present at the Maru LGA headquarters departure venue".
The statement further revealed that one officer, 2 soldiers and members of vigilantes lost their lives during the encounter with bandits in Kagara forest.
The Force Commander commiserates with the families of the fallen heroes and all those who lost their lives while praying that their sacrifices for peace in Zamfara State will not be in vain.
Meanwhile, the statement further revealed that the last one week has been a very traumatic one for the people of Zamfara especially in Shinkafi, Anka and Zurmi where bandits carried out coordinated attacks that led the death of civilians.
He, however, reiterated that the men of Operation SHARAN DAJI remain resolute to the mandate of tackling the menace of armed banditry in Zamfara State.
Source: Naija News