Former Lawmaker Kwanee Calls On INEC To Declare AAC Candidate Winner Of Rivers Governorship Election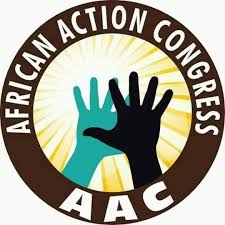 The Independent National Electoral Commission has been called on by Leyii Kwanee to investigate the results from Obio-Akpor Local Government Area in the March 9, 2019 election.
The Former Deputy Speaker of Rivers State House of Assembly while speaking with journalists in Port Harcourt stated that the Rivers State Governor, Nyesom Wike, allegedly visited the local government to manipulate the result.
He stated that the step that was taken by INEC on the results from Emohua and Ikwerre Local Government Area during the Presidential election should be replicated.
Kwanee questioned the integrity the Resident Electoral Commissioner, Obo Efangha and other INEC Officials in the state whom he accused of working for the return of the Governor.
He called on INEC to declare candidate of the African Action Congress, Awara Biokpomabo winner of the March 9, 2019 Governorship election in Rivers state.
"I am deeply saddened at the gross decisions taken by the INEC Resident Electoral Commissioner in Rivers state, Mr Obo Efangha which like a false doctrine, he manifested last Saturday."
"Despite our outcry of the partisanship position of the REC, Mr Efangha blatantly ignored our complaints, and in connivance with other officials of the Commission in the state acted the script of the People's Democratic Party, (PDP) and its Governorship candidate, Governor Nyesom Wike to defraud Rivers people yet again."
"In a brazen attempt to forcefully install Nyesom Wike as Governor for a second term, Mr Efangha working for a hand in glove with the Administrative Secretary of INEC in Rivers state, Mr Etim Umoh appointed card-carrying members of the PDP as Electoral and Returning Officers for the different Local Government Areas of the state."
"Despite the gang-up, Rivers people were certain in their resolve to remove the incumbent administration in the state by voting overwhelmingly for the Governorship candidate of African Action Congress (AAC), Engr. Awara Biokpomabo, a refined gentleman."
"While INEC and its officials expressly refused to announce results turned-in for AAC, the PDP gleefully made desperate moves to doctor results and inflate figures for the sinking Governor."
"Governor Wike took his desperation to a crescendo when he led his personal security aides, PDP Chieftains and thugs to the Obio-Akpor collation centre to hijack the result sheets. That was the height of it."
"It was 'ungubernatorial' for Governor Wike to have left his coveted office to a collation centre in the middle of the night. As we speak, two Military officers are battling for their lives in the hospital after that invasion."
"I am also aware that Governor Wike took his despondence further by announcing concocted results for the Governorship elections in Government House Port Harcourt while State House of Assembly results was announced at different hotels in Port Harcourt."
"With these and many more facts available to us, I think it will be in the best interest of INEC to cancel the results of Obio-Akpor Local Government area and others like that were manipulated by the Governor. We want INEC to take the same decision it took on the results from Ikwerre and Emohua Local Government areas during the February 23rd election where the results were not entered in Favour of APC because of unconfirmed reasons."
"I am also calling on INEC to avoid a legal quagmire by declaring results already announced at the point of collation which to the best of my knowledge are in Favour of Engr. Awara Biokpomabo of the AAC."
"It is pertinent to emphasize that Rivers people are tired of the bloodletting, tension and widespread violence associated with elections in the state, hence the need to declare properly collated results."
"I, therefore, call on Nigerians to disregard the hues and cries of Governor Nyesom Wike and his foot soldiers against the Nigerian Army, his mischief and media propaganda against security operatives."
"History beckons in a manner that only God can demystify. Let's be part of it."