100 Persons Reportedly Killed, 30 Houses Burnt As Kajuru Attacks Continue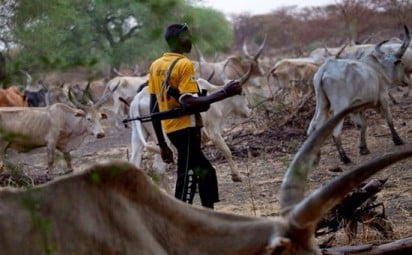 Suspected Herdmen Launch Fresh Attack On Kajuru Of Kaduna State, Monday Morning
Kajuru Local Government Area of Kaduna State has suffered yet another attack as gunmen suspected to be Fulani herdsmen reportedly attacked two villages, killing over 100 people and burning over 30 houses Monday morning.
Naija News reports that recently there have been attacks and counter-attack on Kajuru community between herdsmen and security operatives.
A source from Dogo Noma told Daily Independent that the gunmen attacked Ikirimi village as well as Iri, Dogon Noma in Ungwar Gamo in Kajuru.
The source said he was from Dogon Noma but was based in Kaduna metropolis.
According to him, they got the news of the attack about 8.30a.m on Monday and rushed there but by the time they got there at 10;00am the attackers had wreaked havoc and escaped.
"Some of the survivors had carried some of the corpses and put them on the road for government to see" he said.
He added that he was among those who helped 16 injured persons to a hospital. Some men, he said, were taken to St. Gerald Hospital.
"By the time I left the village, 27 people were injured but they could be more because some ran into the bush for safety.
"But I learnt that the invaders pursued them into the bush. Some of the injured were taking shelter at Mararaba Police Division."
According to the source, his brother and wife were missing. "When I called the phone of my brother's wife, Mrs. Lydia David, a Fulani voice answered and said, 'the owner of this line has been killed'.
"They also killed my step mother, Mama Wasa. When I called my brother, his line was switched off. He may have been killed because we have not heard from him as I am talking to you."
He said he was told that the invaders entered the village about 7.30a.m shooting at people and burning houses.
They told me that some carried jerry cans of fuel with cutlasses, while some carried guns.
The Kaduna State government, through its spokesperson, Samuel Arunwan, has sympathized with the people of the area, while also assuring the people of their safety as security officials had been deployed to secure the area.
Recall that the Police Public Relations Officer, Kaduna Command, Yakubu Sabo, had earlier confirmed an attack on Sunday by the invaders who stormed a village around Barde, around Maro and killed 16 people.
According to him, "There was an attack yesterday (Sunday) morning around 7:30am, and we received some information that some armed bandits had entered one village called Barde, around Maro, in Kajuru Local Government Area and they started shooting sporadically which resulted to the death of about 16 persons. he had said.
However, on the fresh attack on Monday, he said, "Let me get the facts and I will get back to you, please. For that of yesterday, you can authoritatively confirm from me. We cannot give you information based on hearsay."
There was no confirmation from him as at the time of filing this report.