Live Updates: Final 2019 Governorship Election Results For All States Declared By INEC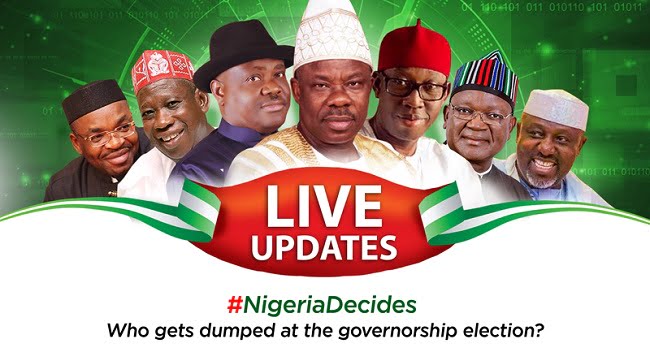 The Independent National Electoral Commission (INEC), has commenced the announcement of the final governorship election results recorded in various states in the country, with most Nigerians anxiously waiting to know who is winning.
Naija News reports that INEC commenced the governorship and House of Assembly elections at exactly 8 am on Saturday, March 9, amidst tight security.
The governorship election took place in 29 states while state assembly polls held in all the nation's 36 states.
In the build-up to the elections, governorship candidates of All Progressives Congress (APC), Nigeria's ruling party, and that of the Peoples Democratic Party (PDP), Nigeria's main opposition party, have clearly popped up as top contenders for the office of the governor.
Below are the final results as declared by INEC
STATE
FINAL RESULTS
WINNER
ABIA
APC: 99,574

PDP: 261,127

PDP (INEC-certified)
ADAMAWA
*APC: 334, 995

*PDP: 367, 471

*ADC: 113, 205

INCONCLUSIVE
AKWA IBOM
APC: 171, 978

PDP: 519, 712

PDP (INEC-certified)
BAUCHI
*APC:465,453
*NNPP:31,057
*PDP:469,512
*PRP: 45,735
INCONCLUSIVE
BENUE
*APC:329,022

*PDP:410,576

INCONCLUSIVE
BORNO
APC:1,175,440

PDP: 66,115

APC (INEC-certified)
CROSS RIVER
*APC: 131,161
*PDP:381,484
PDP (INEC-certified)
DELTA
APC: 215,938

PDP: 925,274

PDP (INEC-certified)
EBONYI
APC: 81,703

PDP: 393,043

PDP (INEC-certified)
ENUGU
APC:  99,574

PDP:  449,935

PDP (INEC-certified)
GOMBE
APC: 364,179

PDP: 222,868

APC (INEC-certified)
IMO
PDP: 273,404
AA: 190,364
APGA: 114,676
APC: 96,458
Accord: 6,846
PDP (INEC-certified)
JIGAWA
APC: 810, 933

PDP: 288, 356

APC (INEC-certified)
KADUNA
APC: 1,045,427

PDP: 814,168

APC (INEC-certified)
KANO
APC:987,819

PDP: 1,014,474

INCONCLUSIVE
KATSINA
*APC: 1,178,864
*PDP: 488,621
APC (INEC-certified)
KEBBI
APC: 673,717

PDP: 106,633

APC (INEC-certified)
KWARA
APC: 331,54

6PDP: 114,754

APC (INEC-certified)
LAGOS
APC: 739,445

PDP: 206,501

APC (INEC-certified)
NASARAWA
APC: 327,229

PDP: 184,281

APC (INEC-certified)
NIGER
APC: 526,412

PDP: 298,065

APC (INEC-certified)
OGUN
APC: 241,670

APM: 222,153

APC (INEC-certified)
OYO
APC: 357, 982

PDP: 515, 621

PDP (INEC-Certified)
PLATEAU
*APC: 583, 255

*PDP: 538, 326

INCONCLUSIVE
RIVERS
Election suspended
SOKOTO
*APC: 486,145

*PDP: 489,558

INCONCLUSIVE
TARABA
APC: 362,735

PDP: 520,433

PDP (INEC-Certified)
YOBE
*APC:444,013
*PDP: 95, 703
APC (INEC-certified)
ZAMFARA
APC: 534,541

PDP: 189,452

APC (INEC-certified)