Live Updates: See First Yobe Governorship Election Result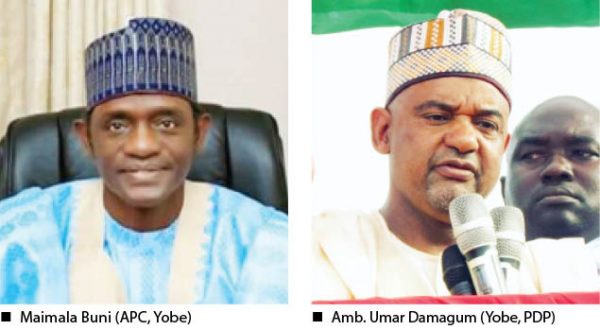 The first result of the ongoing governorship and House of Assembly elections in Yobe state has emerged.
Naija News reports that the Independent National Electoral Commission (INEC) commenced the governorship and House of Assembly elections at exactly 8 am on Saturday, March 9, amidst tight security.
The election is taking place in 17 Local Government Areas (LGAs), 178 wards, 86 political districts, 2,826 polling and voting units in the state.
In the build-up to the election, Mai Mala Buni, the governorship candidate of All Progressives Congress (APC), Nigeria's ruling party, has clearly popped up as a top contender for the office of the governor.
This, Naija News reports came after 10 political parties endorsed him for the number one political position in the northern state.
Buni would, however, battle Ambassador Umar Iliya Damagum, gubernatorial candidate of the Peoples Democratic Party (PDP), Nigeria's main opposition party, for the position.
Thirteen (13) candidates are vying for the post of a governor, 152 candidates are running for the House of Assembly. There are 1.37 million Registered voters in Yobe.
Below are the results… (PLEASE REFRESH ALWAYS)
08:55 pm: Buni Lawanti ward at Phase One, Damaturu
Governorship election results
APC- 162 votes
PDP- 22 votes.
03: 12 pm: Ben Kalio Housing Estate polling unit Damaturu:
Governorship election results
APC 441
PDP 30.
Please note that these results are yet to be confirmed by the Independent National Electoral Commission, INEC, the only body recognised by law to declare election result.