Lagos Decides: Its 'O Tope' Not 'O toge' For Lagos – Tinubu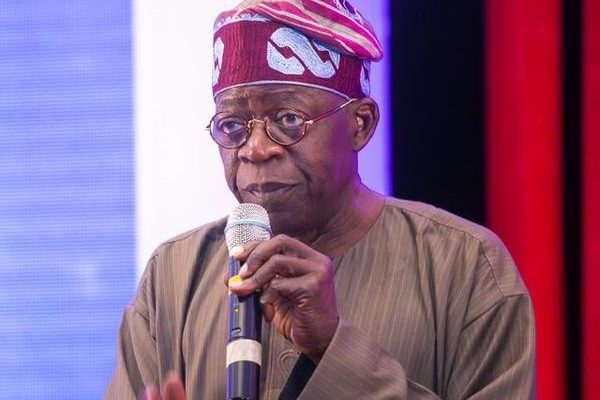 The National leader of the All Progressives Congress (APC), Bola Tinubu, has said that the trending campaign slogan of "O Toge" in Kwara is different from "O Tope'' (It's something to be grateful about) which subsists in Lagos.
The former Lagos State Governor made this known after casting his vote on Saturday in Alausa Ikeja.
NAN reports that the "O Toge'' which means "enough is enough" was a slogan first used in Kwara State to oust the political dynasty of the Sarakis.
The slogan was made popular during the Feb.23 Presidential and National Assembly election to challenge the Sen. Bukola Saraki political hegemony in Kwara.
The slogan, however, gained currency in the Southwest as the opposition party in Lagos adopted the same slogan to challenge the ruling party in Lagos State.
However, Tinubu made a mockery of the O to ge slogan used by the opposition in Lagos, saying the situation in Lagos was quite different.
He said: "The "O Toge" slogan is for Ilorin; Lagos is not Kwara State, and there is a limit to copying. Lagos should be "O Tope", not "O Toge".
"We are going to win because we are the only party in Lagos State, others are pretenders; they come and they will go away. Leopard cannot change his skin.
"Lagos State belongs to the progressives; we are progressives and we will remain progressive."
"For Lagos, it has seen tremendous development since I was the governor; before then, the highest Internally Generated revenue (IGR) was N600 million, per month, now it is over N30 billion.
"No other state has achieved what we have achieved, financial independence, as Lagos state; no other nation, they all depend on allocation from the Federal Government.
"Lagos State today will not depend on any allocation before we take care of capital needs; we build roads and bridges everywhere from Oregun to many parts of the state.
"The real estate value of Lagos State has exponentially increased than any other state in the federation. We are the fifth largest economy in Africa; let me see that governor who will do better than that", he said.