Buhari Speaks On Atiku's Decison To Challenge February 23 Election Results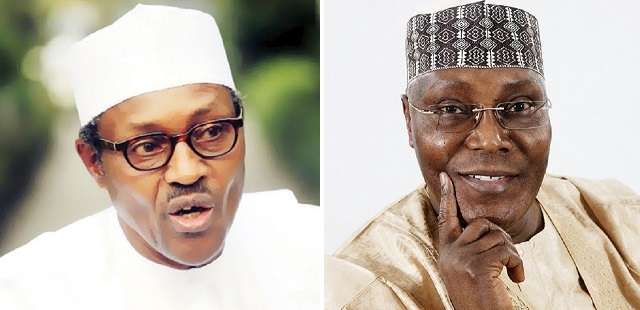 Buhari And Wife Cast Votes In Katsina Comment On Atiku's Defeat In Feb.23 Elections
President Muhammadu Buhari says he expected Atiku Abubakar to go to court after the results of the 2019 presidential election were announced.
Naija News recalls that many have advised Atiku to not bother to seek redress in court or challenge Buhari's victory after the Independent National Electoral Commission (INEC) declared him (Buhari) the winner of the February 23 poll.
Buhari speaking after he and his wife, Aisha, voted today, at the Kofar Baru 003 polling unit, Daura, Katsina state, in the governorship and state assembly elections said he was not surprised by the the decision by the PDP to challenge the outcome of the presidential election.
"I expected that to happen." he  said.
He said: "One obvious red flag is the statistical impossibility of states ravaged by the war on terror generating much higher voter turnouts than peaceful states. The suppressed votes in my strongholds are so apparent and amateurish, that I am ashamed as a Nigerian that such could be allowed to happen. How can total votes in Akwa Ibom, for instance, be 50% less than what they were in 2015?
"Another glaring anomaly is the disruption of voting in strongholds of the Peoples Democratic Party in Lagos, Akwa-Ibom, Rivers and diverse other states, with the authorities doing little or nothing and in some cases facilitating these unfortunate situations.
"The militarisation of the electoral process is a disservice to our democracy and a throwback to the jackboot era of military dictatorship."
Buhari also commented on the tension and violence across the country over Saturday's elections.
"I will leave it to the law enforcement agencies especially the police because they have been meeting virtually on a 48-hour basis to make sure that they have identified the flashpoints, as you mentioned, wherever they are and make arrangements to counter it," he said.