Oyo State: Opposition Parties Form Alliance Against AKala And Adelabu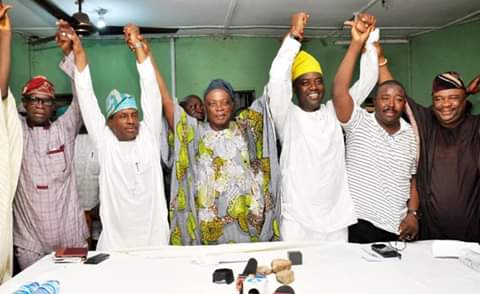 The Oyo State governorship candidate of the Social Democratic Party (SDP), Chief Bolaji Ayorinde has formally dropped his ambition in support of the Peoples Democratic Party (PDP) candidate in Saturday's election, Seyi Makinde.
In a statement he issued on Monday, he said his support for the PDP candidate was "informed on the need to free our dear State from the shackles of remote control governance and the need to midwife a government that will truly attend to the needs of our people."
He said he and some other stakeholders in the state have, over the last months, been involved in a series of crucial meetings over the race for the governorship seat in the state.
"This engagement has been tailored towards finding a consensus candidate amongst willing political parties in view of the configuration of the political divides in our dear state. "In doing this, I also offered my self as such consensus candidate, but that if the mantle falls on another amongst the coalition I shall have no reason not to support the consensus candidate.
"After many difficult sessions of inter and intra party consultations, the mandate has fallen on Engineer Oluseyi Makinde of the PDP. I therefore at this point formally declare my support for him going into the Saturday's governorship election.
"Let me note that all the candidates involved in the deliberations are all eminently qualified to provide excellent leadership and I hope they will continue to be involved in the affairs of the state as I intend to do.
"I thank them immensely for their involvement in the process. I am very great full to SDP from the national leadership to the state, local government and ward levels.
"In support the candidature of Seyi Makinde of PDP for governor, I remain committed to all SDP candidates for the House of Assembly elections and urge our people and party faithful to go all out to support our candidates,
Meanwhile, as earlier reported by Naija News, Adebayo Adelabu, governorship candidate of the All Progressives Congress (APC) in Oyo State, who recently got an endorsement from the former governor of the state Alao Akaka has promised to pay the N30,000 minimum wage to the state's civil servants if he becomes the governor.