"Stop Harassing Igbo's In Lagos" – Charly Boy Attacks Tinubu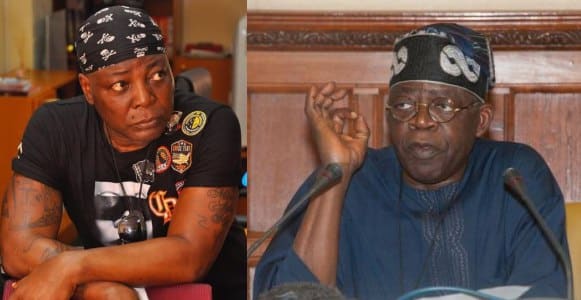 Nigerian singer and songwriter, Charles Chukwuemeka Oputa popularly known by as Charly Boy has issued a stern warning to the former governor of Lagos State and national leader of the ruling All Progressives Congress (APC), Asiwaju Tinubu.
Naija News reports that Charly Boy warned against Tinubu attacking the Igbos who are living and doing businesses in some parts of the state.
Charly Boy took to his Twitter handle on Friday, March 1 to remind the All Progressives Congress, APC, National Leader that it was not about him but about the people.
The controversial entertainer and the propagator of the popular 'OurMumuDonDo' campaign said Tinubu was free to continue enslaving Lagosians if they so wish but must leave Igbos out of it.
In his tweet, Charly Boy said; "Tinubu please park well, you must stop dis break dancing.
"It is not about you, it's about Nigeria. If Lagosians have allowed you to enslave them, that's their buisness.
"Stop harassing Igbo's in Lagos.
You're not the only gangster in Naija."
The entertainer had been known in recent times for his outspoken attitude to the matters of national and public interest.
Recall that Naija News had reported that Charly Boy had reacted to the re-election of President Muhammadu Buhari in a series of online posts where he ushered Nigerians into another era of fours slavery.