See The Moment Obasanjo Hurriedly Flies Out Of Nigeria Over Buhari's Victory (Video)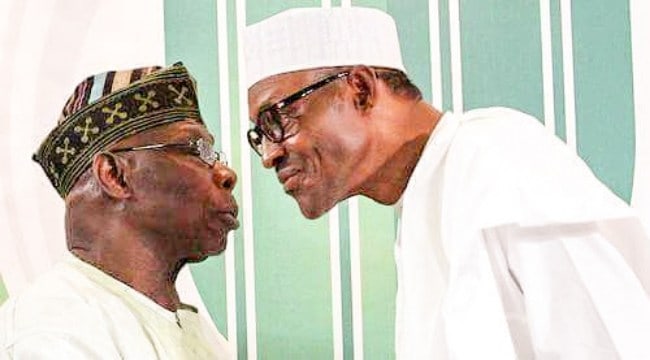 A video has emerged and making the rounds across social media platforms showing the former president of Nigeria, Olusegun Obasanjo is hurriedly rushing out of Nigeria after President Muhammadu Buhari's victory
Naija News reports that the All Progressive Congress (APC) in the United Kingdom has shared the video of the former President Olusegun Obasanjo hurriedly leaving the country.
The U.K APC tweeted a video and captioned it as thus: "[BREAKING] Former President Olusegun Mathew Okikiola Aremu Obasanjo hurriedly jets out of Nigeria through @FAAN_Official MMIA upon APC win! #NextLevelConfirmed."
The video showed how the former president was rushing to catch up with his flight at the Murtala Muhammed International Airport (MMIA) in Lagos.
The move of the former president to fly out of the country comes after the Independent National Electoral Commission (INEC) had announced President Muhammadu Buhari as the winner of the 2019 presidential election.
Recall that Obasanjo had earlier dismissed social media reports that he had fled Nigeria ahead of the presidential election.
Obasanjo spoke with newsmen at his Presidential Library, Abeokuta, described the social media post as "fake news."
In his reaction to the earlier suggestion that he travelled out of Nigeria, Obasanjo said "Why should I travel out of the country before the election?
"If not for anything, I believe I should be here to perform my civic responsibility, which is to vote according to the dictate of my heart tomorrow and on the second of March.
"Those who are carrying that type of rumour or fake news; I leave them in the hands of God; I am used to that kind of thing.
"In Yoruba land, if your head is hard, you don't have to worry yourself.
"Let anybody tell lies against you, let anybody issue fake news against you, let anybody abuse you, God will deal with them rightly and appropriately."
Source: Naija News