Ekweremadu Wins Enugu West Senatorial Race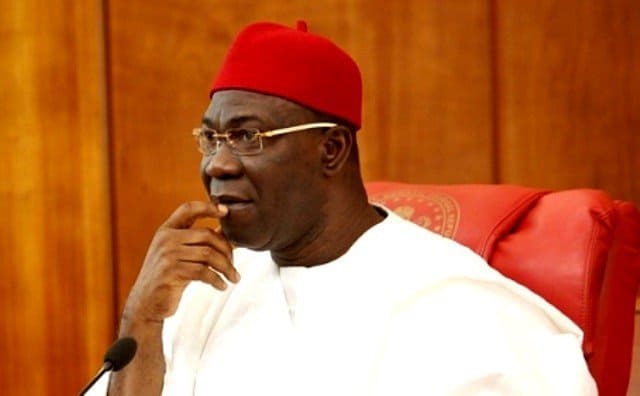 Deputy Senate President, Ike Ekweremadu has won the election and he is to return as Senate to represent the Enugu West senatorial district.
Enugu West senatorial district has five local governments' areas of Oji River, Aninri, Ezeagu, Awgu, and Udi.
Naija News reports that while making the announcement of the result at about 12:10 a.m. on Monday, the Returning Officer for the senatorial district, Prof. Douglas Nwagbo, said Mr Ekweremadu polled 86,088 ahead of his closest rival, Juliet Ibekaku-Nwaugwu of the APC who polled 15,187.
There were some other political parties that presented candidates in the senatorial election and they included APGA, ADC, UPP, PPN, among others.
While APGA scored 6,881, ADC polled 838; UPP scored 202 with MMPN scoring 127.
The district has a total of 461,517 registered voters; 118,023 accredited voters while 109,929 votes were recorded as valid votes, according to details revealed by the returning officer.
"I must add that a total of 4,960 votes were rejected, making the total votes cast in the senatorial district to equal 114,889," Nwagbo said.
Whille expressing his delight over his victory to return to the Senate, the Nigerian Lawmaker, Ekweremadu said in his words; "I am not taking this election for granted, especially by the unprecedented nature of my election."
"This is the first time within this part of Nigeria that someone would be elected consecutively for five times into the Senate of the Federal Republic of Nigeria. It has never happened and I am not taking it for granted. I indeed feel very humbled and I give all the glory and thanks to the Almighty God who has made it possible.
"Recall that about a year ago, we went through a lot of storm for the major part of 2018 so nobody believed that a day like this will come where I will stand for an election and be declared winner. So, only God can make that possible."
Source: Naija News