Tension, As Benue South Sets To Elect Replacement For David Mark's After 20 Years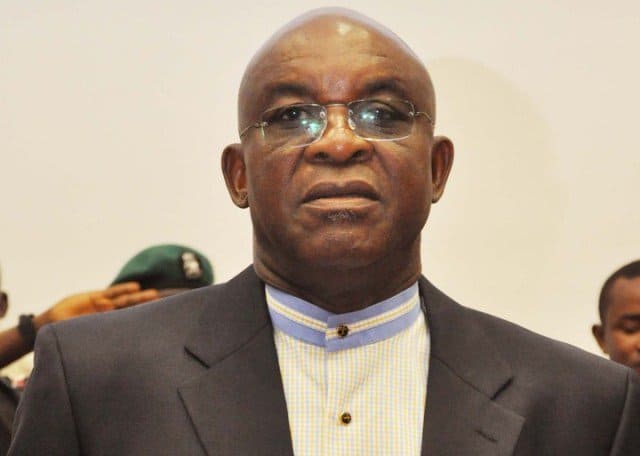 Benue South senatorial district are set to vote for a new leader to represent them at the Senate in 20 years.
This is coming after Senator David Mark who has occupied the seat since the return of democracy in 1999, has decided to step aside for someone else to contest for the seat.
Since the return of democracy in 1999, former military Governor of Niger State, Senator David Mark has been the occupant of the senatorial seat.
NaijaNews understands that there is tension across the nine local government areas in the senatorial district as they set to make the new decision.
At villages and market squares, people were seen debating over who should be the right person to represent Idoma and Igede communities at the Red Chamber of the National Assembly.
Although, over 16 persons are currently in the race to step into the 'big' shoes of Brig. Gen. David Mark (rtd), but three persons are candidates to watch in this historic election.
Among the three top contenders are: Former Minister of Interior, Comrade Abba Moro, representing the Peoples Democratic Party, PDP, former Deputy Governor of Benue State, Steve Lawani of the All Progressives Congress, APC, and Mike Okibe Onoja, former Permanent Secretary, Ministry of Defence of the Social Democratic Party, SDP.
Another person to watch out for in this election is Usman Abubakar (Young Alhaji) of the Advance Peoples Democratic Alliance, APDA.
How they stand…
Abba Moro (PDP)
In Idoma land, the name Moro is like an anthem. During our tour of the nine local government areas that made up the senatorial district, his name was on the lips of people.
Most people believed he has no opponent as far as the senatorial race is concerned.
Most of them said Moro would be returned elected because of the employment opportunities he gave to people of the area when he held sway at the ministry of interior and his magnanimity.
Political analysts believe that it would be a clean sweep for him in Otukpo, Okpokwu (his country) Ohimini, Apa, Agatu and most likely, Ado.
However, observers said the votes in Ogbadibo, Obi and Oju would be divided among the top contenders, including Young Alhaji.
Among the three top contenders, Moro is the youngest but the peoples' favourite.
He would be banking on the people to 'pay' him back for his past records.
Also, Benue South has been dominated by the Moro's PDP for 20 years and the story might not change this time around.
The youths and women folks would likely go this way.
Steve Lawani (APC).
He's fondly called the 'silent achiever.' Reserved and calm, Lawani, former Deputy Governor of Benue State is a man to watch in today's election.
A man of few words but highly rooted.
Lawani believes that blowing trumpet about one's political achievements is unnecessary, hence, reason he's not talking what he did as deputy governor of the state for eight years.
In Ogbadibo, which is his territory, it might not be a clean sweep for him because most of Moro's strong men hailed from this area.
Lawani would find Owukpa a hard nut to crack but Orokam and Otukpa may stand for him.
He is believed to be banking on federal might for a smooth ride.
Lawani would sure get good votes from Oju and Obi (Igede nation) might not be big enough to settle the score.
The elderly men would toe this path.
Mike Onoja (SDP)
Two major odds against Chief Mike Onoja in today's election is his age and political instability.
Within the last four years, Onoja, who is beleived to be in his 80s has pitched his tent with three different political parties.
Before the 2015 general elections, Onoja was in the race for the Peoples Democratic Party's ticket.
However, on the day of the primary between him and the then Senate President, David Mark, Onoja announced his withdrawal from the race and declared his support for Mark, having spent millions of naira canvassing for votes.
In 2016, he announced his defection to the All Progressives Congress during the rerun, citing the wind of change blowing across the country as his reason.
Surprisingly, in 2018, Onoja made a second return to the PDP and declared his ambition for the Senate but lost woefully during the party's primary to Moro.
Consequently, he defected to the SDP and was given the party's senatorial ticket, which was hitherto held by Adakole Ijogi.
Most people don't really trust his judgement and political calculations.
Even in his country home, Ado, Onoja may not pull reasonable votes due to a long standing royal tussle in the area.
Most of his votes might come from Igede community (Oju and Obi).
Few Igede elders would go for him.
While one may not be bold enough to predict the result of today's election, it won't be unwise to say that it is going to be a battle between the federal and the local nights.
No doubt, the area is tensed; the people are in suspense and waiting eagerly to see a new face at the Senate after 20 years of 'Markmania'.'
The battle is on.
Download Naija News App. Advertise with us. Send us enquiries and press releases.