INEC Officials Yet To Arrive Osinbajo's Polling Unit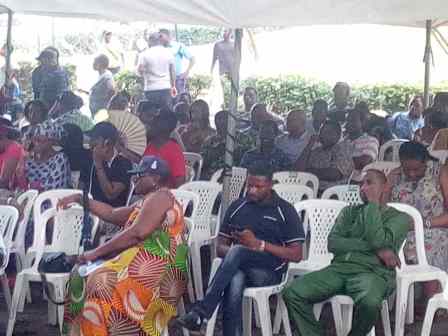 Officials of the Independent National Electoral Commission (INEC) are yet to arrive the Code 33, Unit 2, Victoria Garden City (VGC), Lagos where Vice President Yemi Osinbajo will cast his vote in the presidential election on Saturday, February 23.
Naija News reports that while the INEC officials were yet to arrive the scene, the unit witnessed early arrival of voters who started filing out at 5 a.m.
The voters are orderly seated while waiting for voting to commence as at the time of filing this report at 9:30 1m, Saturday, February 23.
A voter who pleaded anonymity disclosed that he arrived at the polling unit at about 5 a.m. He said he would like to vote early enough and attend to other things.
Another voter, Friday Abraham, said he came to the polling some minutes before 5 a.m.
"Basically, I came to exercise my right as a citizen and I needed to do so before the queue gets very long," he said.
Yemi Osinbajo is seeking a re-election into office under the platform of the All Progressives Congress (APC) where he is a running mate to President Muhammadu Buhari.
The APC's Buhari is expected to defeat his other counterparts so as to secure the peoples' mandate to rule Nigeria for nother fout years.
Buhari had since arrived his home town in Daura, Katsina state where he casted his vote alongside his wife, Aisha Buhari.