Nigerians React As Google Suggests One Dollar Is Now N184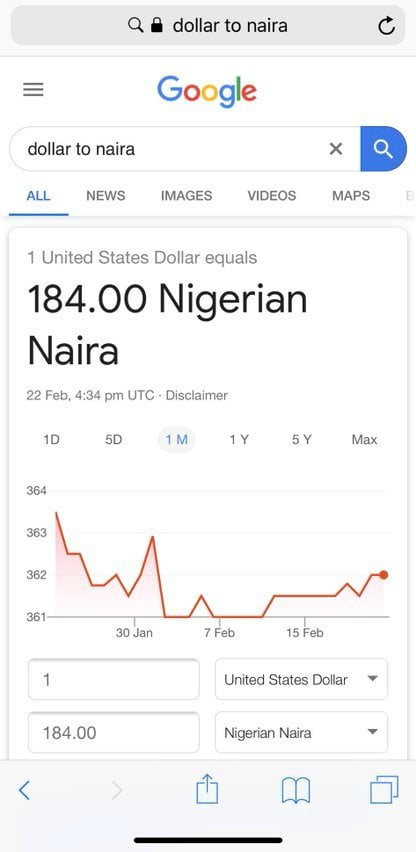 A storm of reactions by Nigerians has greeted an exchange rate which showed Nigerian currency, Naira exchanging at N184 to One Dollar on Google.
Naija News had reported earlier that Google Currency, a software code that is designed to convert one currency into another in order to check its corresponding value, showed on Friday that one dollar was exchanging at N184.
Naija News understands that the N184 to $1 was just a glitch in Google's software as the Central Bank of Nigeria (CBN), Nigeria's apex bank, sold the greenback to Bureau De Change (BDC) operators at N357 per dollar on Friday.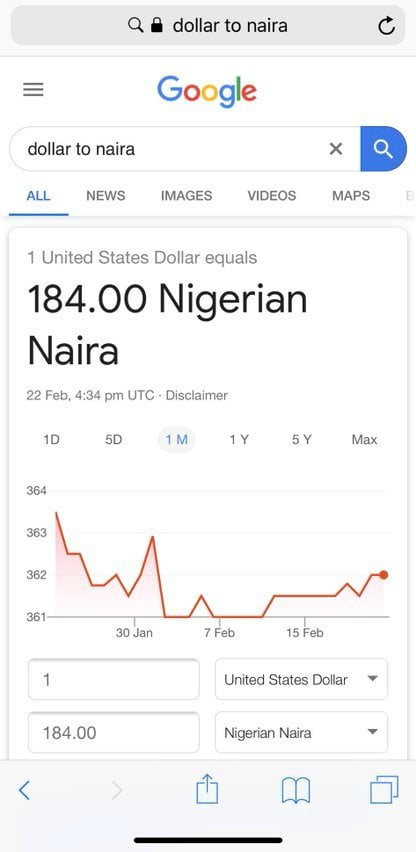 This online news platform understands that the naira gained N1 to close at N358 to the dollar at the parallel market in Lagos, Nigeria's commercial city on Friday.
Moments after the news broke, Nigerians took to the micro-blogging site, Twitter to air their opinions on the development.
Naija News captured some of the reactions below…
Google how far?? ?

— ITS DONJAZZY AGAIN? (@DONJAZZY) February 22, 2019
The Photo on the right displaying the current exchange rate is Google and yes it has been compromised few hours to the Polls.
Photo on the left is the real exchange rate from XE…#dollartonaira pic.twitter.com/gjF3Zct65g

— DANIEL WHYTE (@danielwhyte2) February 22, 2019
I don't know what y'all learn in Math class. You can't even Study a simple graph. That's an error From Google.
1 #dollar is not 184 Naira pic.twitter.com/pLr1TuUz7s

— Hab (@Habeeblai_) February 22, 2019
Google Operator 1: I'm really bored

Google Operator 2: Me too bro

GO1: I have an idea, lets fuck with Nigeria?

GO2: Ok, Ok….How's this???? pic.twitter.com/dK8dPkDeYg

— ZiiZii The Wizard (@kvng_ziiz) February 22, 2019
GOOGLE: $1 = N184.00

Bitcoin Traders: pic.twitter.com/a9izOfOWOy

— AKWESI KOBE (@brunzvold) February 22, 2019
Imagine buying Samsung s10 yesterday for 700k only to see on Google that #Dollar to naira rate changed today and it now costs 360k pic.twitter.com/CmorVCaWm3

— Jeneral (@PajiahJames) February 22, 2019
Does google have a glitch or something? pic.twitter.com/iCzwnkOeWe

— Parzival (@iKayode97) February 22, 2019
It seems Google (an insider) is in a conspiracy with the opposition to fool the citizens some hours to the general election. #VoteBuying pic.twitter.com/PhonzFNwqs

— Goldenchyld Simeon (@goldenchylduno) February 22, 2019
Is Google fucking with us or #Naira has actually gained value pic.twitter.com/9uZzHnqOFb

— TAMMY || AFROVIBE AFRICA (@TammyWariboko) February 22, 2019
APC be messing with google today.. pic.twitter.com/kM0bJauJ3N

— God's son (@maze_taker) February 22, 2019
#Dollar I'm sure this is fake if not I'm not dead. Btc that I bought at N360 few weeks ago. Google should fix this glitch. pic.twitter.com/aKwsAYx9qO

— Emmy⚡ (@EmmanuelChibugo) February 22, 2019
Download Naija News App. Advertise with us. Send us enquiries and press releases.