How PDP Reacts To Killings Of 130 Persons In Kaduna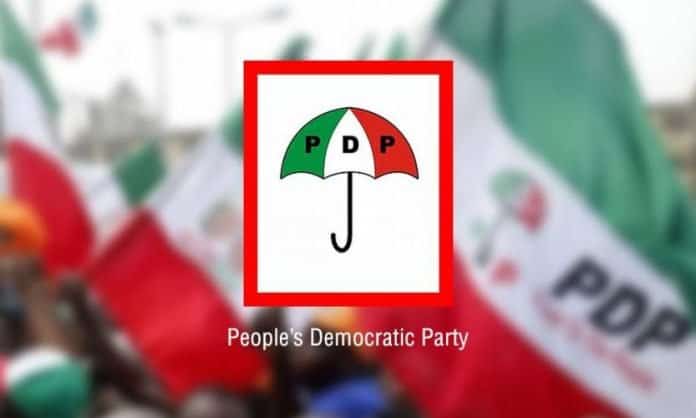 The Peoples Democratic Party (PDP) in Kaduna State has expressed reactions towards the killing of about 130 victims in the Kajuru Local Government Area, of the state.
Naija News reports that the party on Thursday, February 21, condoled with the Kaduna State Government and families of 130 victims who were murdered by suspected militiamen in the state.
The State Chairman of the PDP, Felix Hyat extended the condolence message during a press conference in Kaduna.
Hyat while condoling with the families of those who had lost their loved ones in the tragedic incident, challenged security agents to provide convincing explanation to the families and people of the state over the carnage.
"For 130 people to be killed within a week calls for convincing explanation from the security agencies.
"The lives of the people of Kaduna State and Nigeria at large have become such a common commodity to be treated with levity.
"This is very unfortunate and a complete contradiction to the provision of our Constitution built on the foundation of security of life and property.
"Our heartfelt sympathy to the families of the deceased and the public in general," Hyat said.
Hyat also recalled on the series of negative events been recorded in the past few weeks especially as Nigerians usher in Saturday's election to decide the future of the country.
"For the past two weeks, Kaduna State has been in the forefront in news, more on the negative side.
"It started with political clamp down on members of the main opposition party, the PDP.
" The political atmosphere became charged despite the signing of the Peace MOU on Feb. 5, which was breached by both the APC Government in power and the security agencies.
"Next was the breaking news from the State Governor, Malam Nasiru El-Rufai, on Feb. 15, on killing of 66 Fulani people in Kajuru LGA.
"This news came on the eve of the Presidential/National Assembly Elections.
"This information from the Governor was treated with suspicion, because of the timing and the fact that the killings were said to have taken place between Feb. 10 and 11." he said.
He expressed the party's sympathy for the tragic incident that led to the loss of lives in the state. He therefore called for calm and restraint in the state.
"But let it be known that the PDP feels the pains of even one dead person, not to talk of such high figures that keep escalating. In every Local Government security operatives are very visible.
"Now that Governor El-Rufai has vowed not to allow threat and acts of insecurity threaten the Feb. 23, general elections in the State, we in the PDP stand solidly behind him and will help him resist any attempt from anybody and anywhere to postpone these elections," Hyat said.