Nigerians Voice Out On Atiku's Plan To Sell NNPC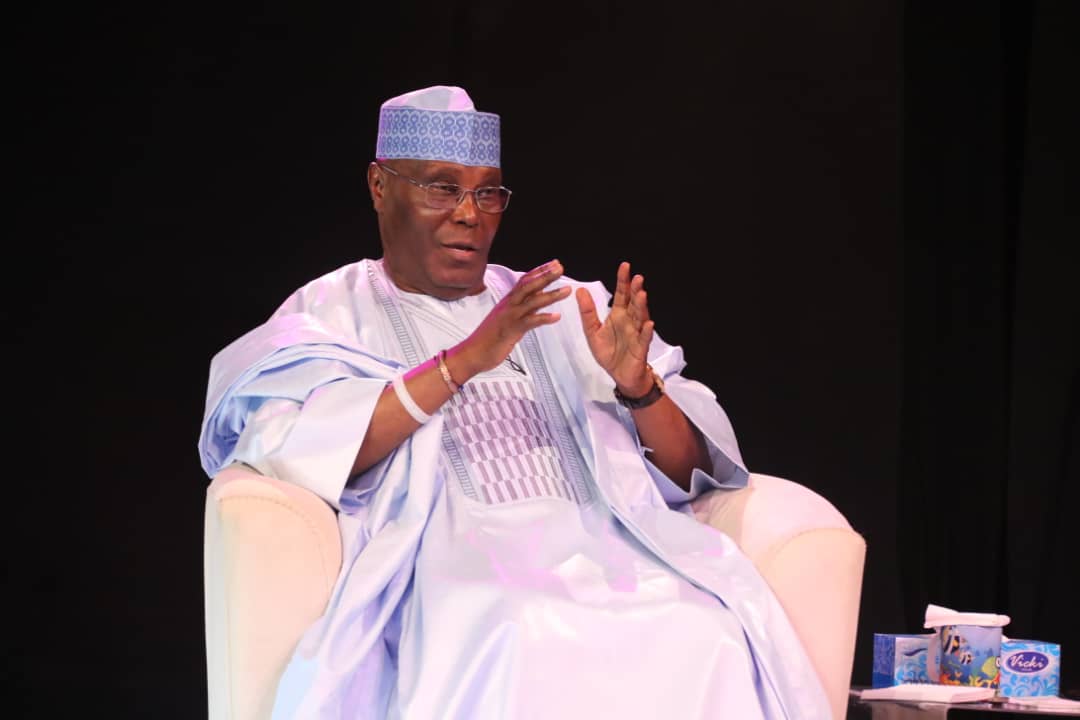 See Comments On Atiku's Plan To Sell NNPC
Mixed reactions have continued to trail the statement of  the presidential candidate of the Peoples Democratic Party (PDP), Atiku Abubakar on Wednesday, where he reiterated his plan to privatize the Nigerian National Petroleum Corporation (NNPC), if elected as president in the February 23 election.
Taking to twitter, some Nigerians discouraged the idea, while speculating that Atiku was speaking based on a prior agreement with some persons who are going to buy NNPC.
Others who supported the idea also expressed their optimism noting that as Atiku said, it will provide wealth, jobs for the less privileged.
Naija News recalls that Atiku had on different occasions spoken of his plans to privatize the petroleum corporation , but this time Nigerians took out time to expressly speak their mind on the plan.
On one of the occasions, Atiku who was speaking during an interactive session with the business community in Lagos, about a month ago had said, if privatized, the corporation would operate better.
See Tweets In Favour Of Atiku's Plan To Sell NNPC
When MTN and then Econet came.

Can you remember 50naira per minute ?

15naira per SMS ?

And how they swore Per second billing wasnt possible ?

With the Sale of NNPC imagine what will happen

— Osikhena Dirisu (@Osi_Suave) February 21, 2019
He didn't even say this. Lmaoooo you guys are running out of steam, he said he'll still sell NNPC so anyone's kids can get jobs not just wealthy people. Then again, it's wealthy people that'll buy no? https://t.co/JwmulfWZ76

— Ayobami (@dondekojo) February 21, 2019
All the people shouting about #NNPC being sold are thinking like poor people.

Has NNPC benefitted us as a country?

Was #NITEL not going to die anyway?

Crab mentality won't kill us in this country.

Sell NNPC, it won't kill us

— The ?? Dream (@LetMyNameBe) February 21, 2019
People are saying @atiku wants to sell NNPC to his friends (the rich). As an economist, I fully support privatization for efficiency. Bt those that said he is selling to d rich, can you afford it? Was it the poor that acquired Glo, 9mobile? Even in USA, only d rich buy big firms

— thommie live! (@iamthommie) February 21, 2019
Tweets Against Atiku's Idea Of Selling NNPC
Atiku 'I will sell NNPC ' a man who criticized the FG decision to sell some assets back in 2018. Why is he hell bent on selling NNPC? His cronies are waiting of course. He is the definition of crony capitalism.
His friends must remain rich not the masseshttps://t.co/2G0voQBt2S

— Dr. Guendouzi (@fimiletoks) February 21, 2019
Civil Servant or Public Servant should think twice before casting your VOTE. One, at least 70% of ALLOCATION comes from NNPC. IF eventually NNPC sold to their friends as Promised, definitely your SALARY has been sold off, your JOB has been sold off. Think deeply.

— Alwan and 999 others (@yesmylo) February 21, 2019
He repeated it in Kaduna again "i will sell NNPC to you"!

How many of you have money to buy NNPC ????.

Obviously to his friends and foreigners, he will sell Nigeria's jobs again like he did in the past..

Vote wisely vote PMB/PYO On Saturday. #Nextlevel

— ObiMomoh (@ObiMomoh) February 21, 2019
As much as we all want the NNPC to be run properly, & no longer be signposted by fraud /graft, privatising it, is a NO
It should b restructured to b an entity listed on the NSE, out of the control of govt, under legislation, backed by law, a complete biz entity we have stakes in

— Salawho Salame (@TSkadau) February 21, 2019
Download Naija News App. Advertise with us. Send us enquiries and press releases.