More Details Emerge On What Might Have Been Responsible For INEC 'Failed Logistics' That Resulted In Election Postponement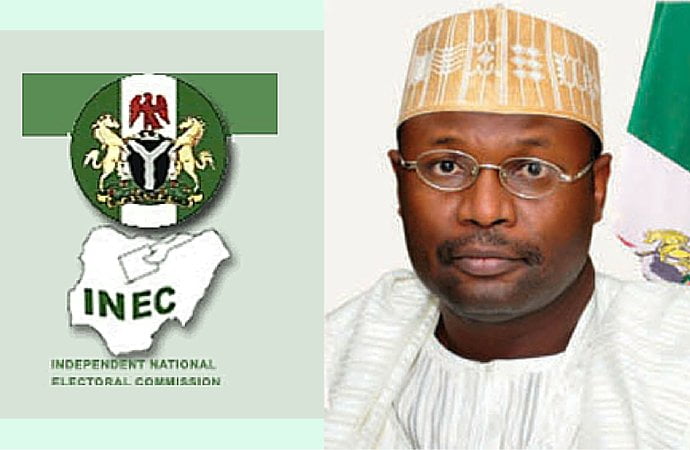 National Commissioner of the Independent National Electoral Commission,INEC, Ikechukwu Ibeaunu, may not be the only one to bear the blame for the sudden postponement of the general elections, as investigation reveals that one Ahmad Tijani Mu'azu is also in charge of logistics.
Naija News understands that since the INEC postponed the general elections, that President Muhammadu Buhari, a key player and key political parties such as the All Progressive Congress and the Peoples Democratic Party, PDP  as well as other Nigerians have not gone to bed.
Recall that INEC had cited logistical issues in its announcement and explanation of the rescheduled elections.
This resulted in an investigation by the mass who took to twitter to speculate that it was Amina Zakari, the national commissioner who was in the news for being related to President Muhammadu Buhari by marriage.
Some commented that she sabotaged the election because Buhari was going to lose. However, Zakari left the role in October 2018 when she was redeployed to oversee the health and welfare committee.
Not long after the Zakari rumour died down, word started going round that Okechukwu Ibeanu, a professor of political science and national commissioner in charge of electoral operations and logistics, was the man responsible for the chaos. It was implied that he was working for Atiku Abubakar, Buhari's main challenger.
Recall that Ibeanu alongside some other INEC officials yesterday were summoned by the Department of State Services before the invitation was later withdrawn.
But it was found that another committee on logistics for the elections is being headed by Ahmad Tijani Mu'azu, a retired air vice marshal. The ad hoc committee is made up of three national commissioners and representatives from several government agencies, notably customs, immigration, road safety commission, police, and armed forces.
What is the difference between the committee headed by Ibeanu and that of Mu'azu — since both deal with logistics? TheCable findings show that the one led by Ibeanu is a standing committee, which is "internal". It deals with providing ballot papers, ballot boxes and other materials for the elections.
The ad hoc committee headed by Mu'azu, which is "external", is specifically for the elections and the brief is to receive materials at the airports and send them to the different locations across the country. It is "external" because it is composed mainly of non-INEC members.
In November 2018 when Yakubu announced that Zakari would head the ad hoc committee on collation centre, all eyes were on her and her relationship with Buhari. On the same day, however, Mu'azu was announced as the chairman of the ad hoc committee on logistics. This went virtually unnoticed. Yet, it was perhaps the most important of the committees inaugurated on January 3, 2019.
What you Must Know About Ahmad Tijani Mu'azu
According to his profile on the INEC website, he was born on September 6, 1957 in Gombe state. He schooled in Gombe, Kaduna and Maiduguri between 1964 and 1975.
In June 1976, he joined the Nigerian air force as a potential pilot and was commissioned pilot officer into air traffic control specialty in 1979.
He holds both civil and military licences with ratings in aerodrome, approach control and approach radar control positions. He was deployed to air traffic control duties for 12 years, from 1979 to 1991, at the Murtala Muhammed International Airport, Lagos, and Mallam Aminu Kano International Airport, Kano.
Mu'azu had his basic military training at the Nigerian Defence Academy from June to December 1979. He did his junior command and staff course at the Armed Forces Command and Staff College (AFCSC) Jaji in 1988. He attended the senior command and staff course at Ghana Armed Forces Staff College (GAFSC) Teshie, Accra, between 1991 and 1992. He was said to have finished well above average "with a strong recommendation for appointment as a directing staff".
He was a member of National War College (NEC), Course 12 at the then National War College (now National Defence College), Abuja, from 2003 to 2004 "and graduated, again, with a strong recommendation to return to the college as a directing staff", according to the profile.
He earned an MSc in strategic studies from the University of Ibadan in 2005.
Mu'azu rose to the professional rank of air vice marshal in 2007 and retired in 2013, after 34 years of service.
It is understood that he had been helping INEC with flight issues in the past and this might have influenced the decision to saddle him with the responsibility for logistics for the elections.
Meanwhile, an INEC official told The Cable that, "None of the three INEC commissioners in the ad hoc committee had any experience of organising general election in Nigeria, so the chaos was coming."
Source: Naija News