Nigerians React To Buhari's #SnatchAtYourOwnRisk Comment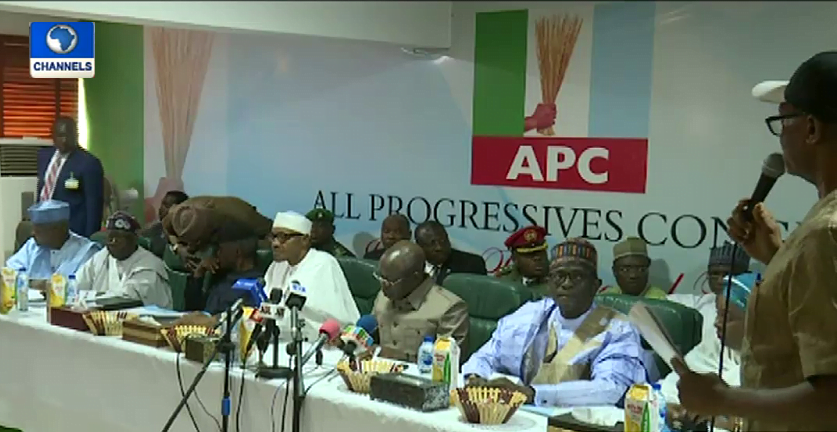 A storm of mixed reactions by Nigerians has greeted the comments made by President Muhammadu Buhari that the security operatives should "deal ruthlessly" with anyone who attempts to snatch ballot box during the rescheduled general elections next Saturday, February 23, 2019.
Naija News had reported earlier that the President made the comment while addressing a meeting of the All Progressives Congress (APC) caucus in Abuja, Nigeria's capital on Monday, February 18.
The President had said: "I have briefed the law enforcement agencies and the military. They have identified the hot spots, flashpoints."They should be prepared to move. We have made as much arrangement as possible and resources provided as much as the country can afford.

"Anybody who decides to snatch ballot boxes or lead thugs to disturb it, maybe this is the last lawful action you will take. "I really gave the military and the police (order) to be ruthless. We are not going to be blamed that we want to rig election. I want Nigerians to be respected. Let them vote whoever they want across the parties."
"I am going to warn anybody who thinks he has enough influence in his locality to lead a body of thugs or to disturb the voting system, he will do it at the expense of his own life," he added.
Moments after the President's comments, Nigerians took to the micro-blogging site, Twitter to air their opinions on the statement.
Naija News captured some of the reactions below…
Buhari is a megalomaniac. I never heard him give this stern warning against the rampaging Fulani herdsmen in Benue, Taraba, Plateau, etc. But when it comes to what concerns him most, you can see the call for jungle justice. #SnatchAtYourOwnRisk#APCJungleJustice pic.twitter.com/vbjeDuddOL

— Emma ik Umeh (Tcee )🇳🇬 (@emmaikumeh) February 18, 2019
Nigeria will not be deterred by this attempt to kill innocent people under the guise of #SnatchAtYourOwnRisk

Nobody will snatch ballot boxes, nobody will rig, but Nigerians will come out and really vote for Atiku Abubakar as President in defiance of #APCJungleJustice

— 'Demola Olarewaju (@DemolaRewaju) February 18, 2019
The Buharists supporting #SnatchAtYourOwnRisk do not imagine a situation where they are the victims of Buhari's condemnable call for jungle justice and disregard for the rule of law.

Remember Bukhari Jega.

— Jamal (@JajaPhD) February 18, 2019
Do you know the doors that statement will open?? Now if any innocent person is killed anywhere by the military, they can say he snatched a box and had the right to shoot him dead. 
A president is not suppose to say that on live TV..#APCJungleJustice #SnatchAtYourOwnRisk pic.twitter.com/wIUZkq5O3N

— Emma ik Umeh (Tcee )🇳🇬 (@emmaikumeh) February 18, 2019
https://twitter.com/elnathan_john/status/1097552375903125504
#SnatchatYourOwnRisk is appalling and shameful to be coming from a democratic elected president.

Premonition of failing has led General Buhari to advocacy for extrajudicial killing. #APCJungleJustice pic.twitter.com/EUb2P9tI0R

— ONYEDIKACHUKWU ANAMBRA (@OnyedikaAnambra) February 18, 2019
Today at APC Caucus, the man responsible for snatching our Democracy in 1983 is calling for the death of those who snatch common ballot box in the upcoming elections.
#APCJungleJustice #SnatchatYourOwnRisk #BusesForDemocracy

— Yaseer Kugu (@YasohMagic) February 18, 2019
Buhari's justification of massacre of Shittes on TV led to more killings of Shittes. His words led to massacre of IPOB members. His insidious #SnatchAtYourOwnRisk will be a disguise for security forces to unleash mayhem in PDP states and strongholds. #APCJungleJustice

— Dragon (@kcnaija) February 18, 2019
I am a Buharist, and I am not against #BusesForDemocracy engineered by @renoomokri as far is taking our democracy to the #NextLevel and ensuring high turn outs.@MBuhari has severally said you should vote for the candidate of your choise but 👇👇#SnatchAtYourOwnRisk pic.twitter.com/4NRifOpC94

— Aze 🔱 (@AliveAzeez) February 18, 2019
Make una no vezz …. Feel free to snatch ballot box … GMB will fry plantain for u … No vezz … #SnatchatYourOwnRisk

— Jubril A. Gawat (@Mr_JAGs) February 18, 2019
The word is out – #SnatchAtYourOwnRisk.

I remember the days of #RigandRoast– shorter, pithier and very effective.

Either way, a word should be enough for the wise. Rigging will come at great cost to life and limb. Plus ca change, plus de la meme chose.

— Muyiwa Gbadegesin, PhD (@muyiwag) February 18, 2019
https://twitter.com/arcadol/status/1097495431641288705
Peaceful voters have nothing to be worried about-however those whose stock in trend is violence, the message is clear; #SnatchAtYourOwnRisk.

— A.A' (@AyooAkanji) February 18, 2019
Sabotage or scuttle the Nigerian electoral process at your own risk.

Your PDP Chair agrees.

"There'll Be War If They Rig This Election" @UcheSecondus

Pick and chose what you like but the Nigerian people will vote peacefully on Saturday. #SnatchatYourOwnRisk pic.twitter.com/WQZyV7S2ZF

— Káyọ̀dé Ògúndámisí 🇳🇬 (@ogundamisi) February 18, 2019
A certain Mr. Uche Secondus once threatened War if the elections are rigged! Now his kids are crying fowl when the People's president directs that no measure should be spared within the ambit a of the law to secure the ballot. Shame on you all. #SnatchatYourOwnRisk

— V (@topeatiba) February 18, 2019
I guess i agree that ballot boxes should not be snatched as long as the shoot at sight order by @MBuhari is not limited to members of a particular Party. #SnatchAtYourOwnRisk. #Elections2019 #YourViewTVC

— Amigo. (@pascaloz) February 18, 2019
https://twitter.com/Jumwalter/status/1097494335338221568
If you don't have any intension whatsoever to snatch ballot boxes then I see no reason why you should be offended #SnatchAtYourOwnRisk

— خديجة❤️ (@deejerh_) February 18, 2019
https://twitter.com/prince_kay1/status/1097491727651352577
You mean ballot box snatchers have doubled their price? #SnatchAtYourOwnRisk #NigeriaDecides2019 pic.twitter.com/o9eIkMTzqx

— Lavida (@GottiLavida) February 18, 2019
https://twitter.com/itzbellakris/status/1097496540531355648
This is what Uche Secondus of PDP said earlier, you didn't have any problem with that, because you like war. But today you are having issues with #SnatchAtYourOwnRisk pic.twitter.com/9XDTIzRCpC

— Bámidélé Chris (@Chrisbamidele) February 18, 2019
https://twitter.com/prince_kay1/status/1097493447735459843
#SnatchAtYourOwnRisk
I really don't know why y'all are pained in the ass for what Buhari said..
I guess y'all are not planning to steal the ballot box but if you are planning to, I don't know where you'll be shot but I pray its on the head

— Soliu Ibrahim Anuoluwapo (@Spororon) February 18, 2019
#snatchatyourownrisk @EiENigeria if you know anyone planning to snatch ballot boxes just encourage them to keep at it, enough of the joke https://t.co/D70bQklN8u

— kennygee babe (@kennygee_70) February 18, 2019
No more Wike using his thugs #rigatyourownrisk

Gloves are off! The law will take care of you. pic.twitter.com/KLBtwmsVRV

— Káyọ̀dé Ògúndámisí 🇳🇬 (@ogundamisi) February 18, 2019
The @officialEFCC did not need 25 armed men. They detained @atiku's lawyer, Uyi Giwa-Osagie, for 9 hours in his office. He is a respectable lawyer. Is it a crime to be Atiku's lawyer? PMB should save his armed men for death squad of #SnatchAtYourOwnRisk and leave Atiku alone!

— Reno Omokri (@renoomokri) February 18, 2019
You snatch a ballot box, your life will be snatched.
Don't be tempted.
Odikwa risky. #SnatchAndDie.#SnatchatYourOwnRisk#SnatchBallotBoxesAtYourOwnRisk #SnatchAndBeSnatched pic.twitter.com/KAQ1vF3mJb

— Lauretta Onochie (@Laurestar) February 18, 2019