#Leah Sharibu: I Still See Her In My Dreams, Father Speaks As Leah Spends One Year In Boko Haram Custody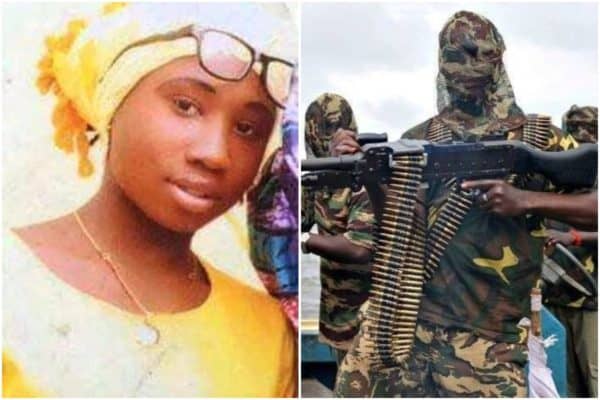 Leah Sharibu's Father Begs Media To Remind Buhari Of His Promise To Rescue His Daughter
Today marks one year after Miss Leah Sharibu, the student of Government Girls Science Secondary School, Dapchi, Yobe State, was kidnapped by Boko Haram terrorists.
Her father, Mr. Nathaniel Sharibu tells newsmen that he has been seeing Leah in his dreams.
Sharibu who expressed grief over the continuous detention of his daughter, urged Nigerians, particularly the media, to impress it on the Federal Government to fulfil the promise it made to the family last year to ensure the release of Leah from the hands of Boko Haram.
Naija News recalls that Leah Sharibu, along with other students of the school was kidnapped by the Islamic State West Africa Province (ISWAP), a faction of Boko Haram on February 19, 2018.
Though efforts to secure the release of the abducted students, only 104 were reported to have been released, with Leah held back in captivity by the terrorists for supposedly refusing to renounce her Christian faith.
In the last series of event, ISWAP had threatened that Leah will remain in captivity as a slave, having earlier given a one-month ultimatum to the government to secure her release through ransom or have her killed.
But speaking with Daily Sun from Adamawa, Mr Sharibu said, "I have to tell Nigerians that the thing (Leah's abduction) was very, very painful. I am totally discouraged due to the type of situation because it is one year on the dot today since my daughter was abducted and nothing was done. They (Federal Government) are just promising, promising, promising, promising, but nothing I see on ground. I am even confused now. All the family is in confusion now."
Recalling the events of February 19, 2018, Mr Sharibu said he was in his base in Yola, Adamawa State, when his loved ones contacted him and broke the news that Boko Haram invaded his daughter's school and made away with some students.
Mr Sharibu added, "Later in the morning, they discovered Leah was among them. We are very, very sad. I can't explain it. It is beyond explanation. Very sad!"
Mr Sharibu, however, expressed hope that his daughter is still alive since he was yet to receive any rumour that his daughter is dead.
Mr Sharibu further said: "Almost every night, I see Leah in my dream. I saw Leah coming to me, saying 'Daddy, how are you?' As we used to joke with her, I used to deal with her. Unfortunately, when I woke up, I see no Leah."
On government's effort so far, Leah's father restated his earlier remarks that he had never heard from the government, except last year when President Muhammadu Buhari called his wife, Mrs. Rebecca Sharibu, on phone and assured her that he would do his possible best to see to the release of Leah.
According to Mr Sharibu, "He delegated three ministers to my house, the same October last year, to assure us that they were doing their possible best to see that Leah returns safely. From there, I did not hear anything from them and I did not see any action from them. They are just doing their politics," Leah's father bemoaned.
He urged the media to remind the government that it is exactly one year since Leah has been in captivity, even as he pleaded with the government to fulfill the promise made to his wife and family to bring her back home.