Bodies Of Suspected Robbers To Rot On Streets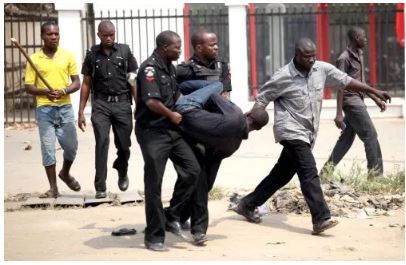 Bodies of two men alleged to have been lynched to death by mob have been left unattended to.
The remains of the men were left on the streets of Aba, in Abia state after they were lynched to their death by the angry mob on accounts of the alleged robbery in the state.
Residents of Aba, the economic hub of Abia state have been expressing their concerns over the decomposing state of the remains.
Naija News reports that the resident said they could no longer cope with the odour from the decomposing corpse. They, therefore, called on relevant bodies in the Aba North Local Government Area of the state to come to their aid and help dispose of the corps.
The corpses were lying at the SAMEC Junction and Uche Street in Eziama as at the time of filing the report.
While reacting to this report, the Head, Aba North Environmental Health Department, Mrs Ngozi Ochor, said that her office only got to know about the unhealthy development a few hours ago.
In a statement obtained by Naija News      , Ochor said she had written to the Police to secure a permit to evacuate the corpse.
She said, "The health implication for the residents is enormous. When the air and our environment are polluted, the reality is that our health is at risk.
"If corpses are not disposed off from our streets, our environment becomes uninhabitable and extremely hazardous.
"They contaminate almost everything around us and expose both the young and old to danger.
"Disease carriers like flies will perch on them and move to contaminate everything around, including food."
Ochor, who said that she did not encourage crime, admonished Aba residents against taking the law into their hands.
She urged residents not to take laws in their hands but report robbery cases to the police for proper arrest, and possible prosecution.
"They should hand over criminal suspects to the Police rather than killing them and leaving their decomposing bodies on the streets," she said.
Source: Naija News