Secondus Calls For Probe Into PVCs Produced By APC Candidate's Firm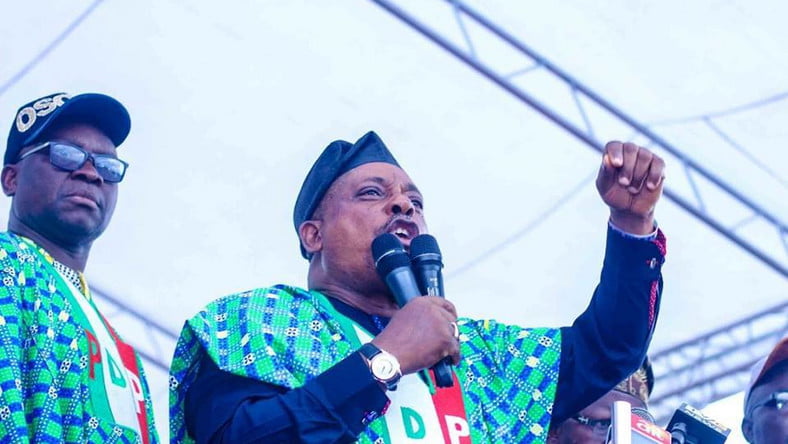 The Independent National Electoral Commission has been called on by the Peoples Democratic Party to appoint external auditors to probe Activate Technologies Limited, a firm which is reportedly owned by the senatorial candidate of the All Progressives Congress, Mohammed Musa.
According to reports, the electoral body had given the firm a contract to print Permanent Voter Cards.
The National Chairman of the party, Uche Secondus, stated this in a letter written to the Chairman of INEC, Prof. Mahmoud Yakubu.
The letter released by PDP is a reaction to the revelation by the commission chairman that the company was owned by the APC candidate.
Yakubu in his statement had claimed that the integrity of the electoral process would not be compromised.
However, Secondus had stated in the letter he signed that the party is not satisfied with the explanation of the INEC boss.
"You stated that you were aware and have no issue with the fact that Mohammed S. Musa is both a senatorial candidate and owner of this company that produces highly sensitive election materials including card readers and PVCs.
"This goes against every international and Nigerian convention and law of nature – it is the equivalent of letting the fox into the hen coop or getting a student to answer their own homework.
"So, we have two supplementary questions: Why would you not terminate the contract of an individual who is participating in an election in which he is providing the means to count his own vote?
"Furthermore, in the spirit of transparency that you stated today that INEC works to embrace, why would you hire a company where the owner hides his ownership of the company through proxy shareholders?"
Secondus stated that the party had been able to get a list of 10 states where the PVCs supplied by Activate Technologies had been taken to.
He stated that PDP would not be satisfied if a probe is not conducted by either PriceWaterhouseCoopers or KPMG.
Secondus added that the firms must inspect some of the card readers supplied by Activate Technologies as some of them might have been compromised to accept cloned PVCs.
"Will INEC allow independent verification that none of the potentially compromised card readers supplied by Activate Technologies Limited in the polling units in the 10 affected states has not been tampered with?
"We thank you for agreeing to this and hereby provide two ICT and audit firms who have the expertise to evaluate whether the card readers have been compromised. We would be grateful if you could confirm which one is acceptable to INEC and make provision for them to have unfettered access between February 18 and 21 as they are brought to the CBN offices in the following states to conduct tests on units selected at random."