Customs Reacts To Video Of Official Shooting Man Dead Over 'N5,000 Bribe'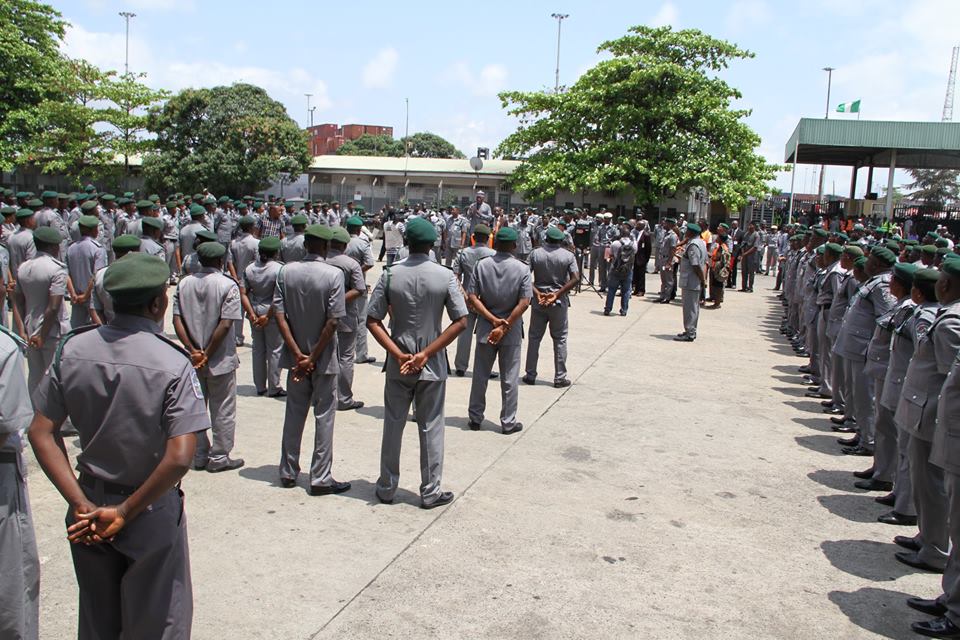 The Nigeria Customs Service (NCS) has reacted to viral videos were its officials were accused of killing an unarmed civilian.
Naija News had reported earlier that the ugly incident took place at the Shagamu interchange along Lagos-Ibadan expressway on Sunday.
In one of the videos sighted by Naija News, several commuters were seen arguing with customs officials, while commuters from other vehicles watched on.
A passenger was heard warning an official not to touch his phone, while some others were arguing with another official.
While the continued, a voice was heard saying, "Shoot him" and a gun went off immediately after.
Some people at the scene fled after heard the sound of the gunshot while others repeatedly shouted that the customs officials have killed someone.
In the video, one of the Customs officials, who lifted the man's hand and realised that it fell to the ground, tried to get back into the official van of the customs but the apparently furious at the scene of the incident prevented the official and his colleagues from leaving the scene.
A lady in the video was heard saying in Pidgin English: "Customs don kill person, make una help them, una no dey go today."
"Customs has killed someone because of N5,000. We are coming from abroad," she added.
Reacting to the incident in a statement issued by its Public Relations Officer, DC Joseph Attah, the service said while it is painful and totally unnecessary to lose life, the victim caused his death.
The statement reads: "Today at Shagamu interchange along Ijebu Ode, an attempt to obstruct lawful performance of duty by passengers of a commercial bus (a white Toyota Hiace) suspected to be carrying bales of used clothing led to the death of a young man (Godwin) and serious injury of a Customs Officer, ASC1, Destiny Onebamho.
"Contrary to some narratives, the young man was not a passenger of the bus but a good citizen who always come to fetch water for Customs Patrol men anytime they return to the base.
"Preliminary finding indicates that it was during the skirmishes and struggle to disarm the Officer that the riffle discharged and hit the friend of the Customs (Godwin) who lost his life.
"The Service is already in touch with the bereaved family.
"Sadly, it should be noted that while attention shifted to the dead and the wounded, the passengers who filmed with inciting commentaries boarded their vehicle and left, leaving the wrong impression that it was one of them that was killed.
"While the wounded Officer is under intensive care at the hospital, the patrol team has been recalled to the office for further investigation," it added.