Customs Official Shoots Man Dead Over 'N5,000 Bribe' (Video)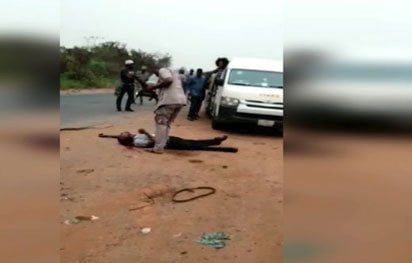 Videos, where officials of the Nigeria Customs Service (NCS) were accused of killing an unarmed civilian, have emerged on social media.
Naija News reports that the ugly incident took place at the Shagamu interchange along Lagos-Ibadan expressway on Sunday.
In one of the videos sighted by Naija News, several commuters were seen arguing with customs officials, while commuters from other vehicles watched on.
A passenger was heard warning an official not to touch his phone, while some others were arguing with another official.
While the continued, a voice was heard saying, "Shoot him" and a gun went off immediately after.
Some people at the scene fled after heard the sound of the gunshot while others repeatedly shouted that the customs officials have killed someone.
In the video, one of the Customs officials, who lifted the man's hand and realised that it fell to the ground, tried to get back into the official van of the customs but the apparently furious at the scene of the incident prevented the official and his colleagues from leaving the scene.
A lady in the video was heard saying in Pidgin English: "Customs don kill person, make una help them, una no dey go today."
"Customs has killed someone because of N5,000. We are coming from abroad," she added.
It was learned that officials were alleged to have stopped the driver over some contraband goods in the bus.
The yet to be identified victim was said to have refused to comply with the customs officials who allegedly tried to extort N5,000 from him.
Watch the videos below…
-Custom officer accidentally killed a man because of N5,000" pic.twitter.com/A3LDB2C19P

— Postsubman (@Postsubman) February 17, 2019
Before he was shot. pic.twitter.com/aBuAYHhUN5

— иωσкє σмα ? (@therealsam046) February 17, 2019
The Nigerian customs unlawfully killed a man today.

A visitor to #Nigeria witnessed the crime.

Please make sure the visitor is safe. @AmnestyNigeria @USEmbassyAbuja @UKinNigeria @eu_eeas @amnesty pic.twitter.com/kNVZSKNCBB

— Amaka Ekwo (@Amaka_Ekwo) February 17, 2019
Download NAIJA NEWS app: