Nigerians React To Oshiomhole's Attack On INEC Chairman Over Election Postponement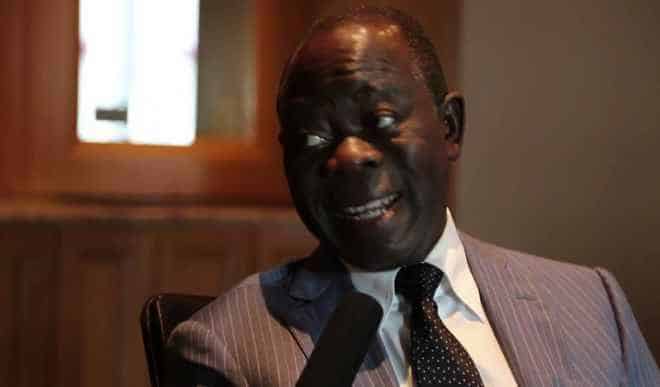 A storm of reactions by Nigerians has greeted the criticism of Prof.Mahmood Yakubu, the chairman of the Independent National Electoral Commission (INEC), by Adams Oshiomhole, the national chairman of the All Progressives Congress (APC), Nigeria's ruling party.
Naija News had reported earlier that the Commission postponed the Presidential and the National Assembly elections by one week earlier today.
INEC also postponed the governorship and state assembly elections, it will now hold on March 9.
Giving a reason for the decision, Prof. Yakubu said the decision was taken after a careful review of the plan for the exercise.
"Following a careful review of the implementation of its logistics and operational plan and the determination to conduct free, fair and credible elections, the commission came to the conclusion that proceeding with the elections as scheduled is no longer feasible," he said.
"Consequently, the commission has decided to reschedule the Presidential and National Assembly Elections to Saturday, 23 February 2019.
"Furthermore, the Governorship, State House of Assembly and Federal Capital Territory (FCT) Area Council Elections is rescheduled to Saturday 9th March 2019. This will afford the Commission the opportunity to address identified challenges in order to maintain the quality of our elections," Yakubu said.
Apparently displeased with the development, Oshiomhole who spoke at the International Conference Center (ICC), Abuja, Nigeria's capital, where INEC held a press conference to explain the reasons for shifting the polls, said the commission ought to have done more.
The APC national chairman described the action of the commission as an embarrassment to the country, demanding that INEC Chairman should tender an apology.
His words: "Why at 2 am on the day of the election? Why? The problem is not about the postponement but why 2 am on the day of the election? You have explanations to do. If you had told us since we would have planned," he said.
"Why didn't you tell us 48 hours ago? You must apologise to Nigerians because you have embarrassed us as a nation," he added.
Moments after his statement, Nigerians took to the micro-blogging site, Twitter, to praise the APC National Chairman.
Naija News captured some of the reactions below…
"Why wait till 2.30am when most decent Nigerians have gone to bed?" – Adams Oshiomole.

I am decent and awake biko. I deserve apology on this too.

— Jaliyyah Bello, PhD (@JaliyyahBello) February 16, 2019
@OfficialAPCNg Chairman Adams Oshiomole just demanded the @inecnigeria chairman to give an apology for the postponement of the election. Must Prof Yakub Muhammad be ask to give apology before he issue one?

— Damilola A Adegbite (@DammieAdegbite) February 16, 2019
Isn't Adams Oshiomole the smartest man in that room?
The rest people are just petting the INEC chairman!

— 🥀 (@prudy_miles) February 16, 2019
The way INEC Chairman was starring at Adams Oshiomole like no be una make me postpone this election? pic.twitter.com/ckCd8AGIxC

— CHUKWUKỌDỊNAKA (@OkoyeMartin) February 16, 2019
Nearly all the Political Parties supported the postponement until Adams Oshiomole rose up to describe the action as unacceptable and irresponsible, he asked the INEC Chairman to apologise to all Nigerians….

— Ayekooto (@DeeOneAyekooto) February 16, 2019
On @Twitter Nnamdi Kanu's Driver go dey form Voltron and display e-intellectuals when your MCM reach in front of @inecnigeria Chairman e dey leak the INEC Chairman gala, thankfully Adams Oshiomole came to the rescue. pic.twitter.com/ksRiTa4tGp

— Káyọ̀dé Ògúndámisí 🇳🇬 (@ogundamisi) February 16, 2019
Comrade Adams Oshiomole, National Chairman @OfficialAPCNg saying it as it is. Blunt & uncompromising. An apology is non-negotiable.

— Toyin AJET (@toyinajet) February 16, 2019
Adams Oshiomole with all this questions raised… God Bless You Sir….#NigeriaDecides2019

— AMODA (EMI LO KAN) ® (@planetaby) February 16, 2019
So wonderful for him to be saying it as it is. Kudus Adams Oshiomole

— Lynda Imas (@LImasogie) February 16, 2019
Adams Oshiomole is making very important points….#NigeriaDecides2019

— AMODA (EMI LO KAN) ® (@planetaby) February 16, 2019
https://twitter.com/CuteWalter1/status/1096805753002881024
"Why will you give notice on the postponement of the elections at 2:30am when most decent person have gone to bed – Adams Oshiomole

All those people that were still awake by that time are indecent.
Thank God I slept early pic.twitter.com/YaYY7X6OjY

— Sinclair (@Sinclair_Lyon) February 16, 2019
I wonder why people think Adams Oshiomole is a saviour at this moment. They gave the INEC chairman a script then turn around to blame him. He couldn't have acted on his own. This is just a smokescreen

— ogochukwu (@Tinaabold) February 16, 2019
I admire the way Adams Oshiomole addresses the issue with no sugarcoat. I am surprise how @osita_chidoka and other party reps were rather calm about it. #INECfails

— Farouk Suleiman (@jiggarook) February 16, 2019
https://twitter.com/SMahmoud/status/1096792450130165760
Adams Oshiomole. Very valid question. Why 2am? 😏

— sally. (@unsallied) February 16, 2019
ADAMS OSHIOMOLE WAS ACTING A SCRIPT
ADAMS OSHIOMOLE WAS ACTING A SCRIPT
ADAMS OSHIOMOLE WAS ACTING A SCRIPT

Yen yen yen
Why did other party spokespersons not act the same kind of script and ask salient questions too?

They were all busy giving the INEC chairman a pat on his back

— MissteryWoman (@So_naughty12) February 16, 2019
https://twitter.com/_Dr90210/status/1096793204186329090
So, you people are falling for this Adams Oshiomole stunt. 😂😂😂

— Da Mayor of Tweet City 🌎 (@iam_damayor) February 16, 2019
Adams Oshiomole did well in condemning INEC but He forgot one of the most important factor…. The corpers who risked their lives…#CorpersNotSlave

— Abuja Minister – Esq (@Sir_BiolaPr) February 16, 2019
https://twitter.com/Kenechukwu_F/status/1096820935892578306