President Trump Set To Declare 'National Emergency' To Fund And Build Border Wall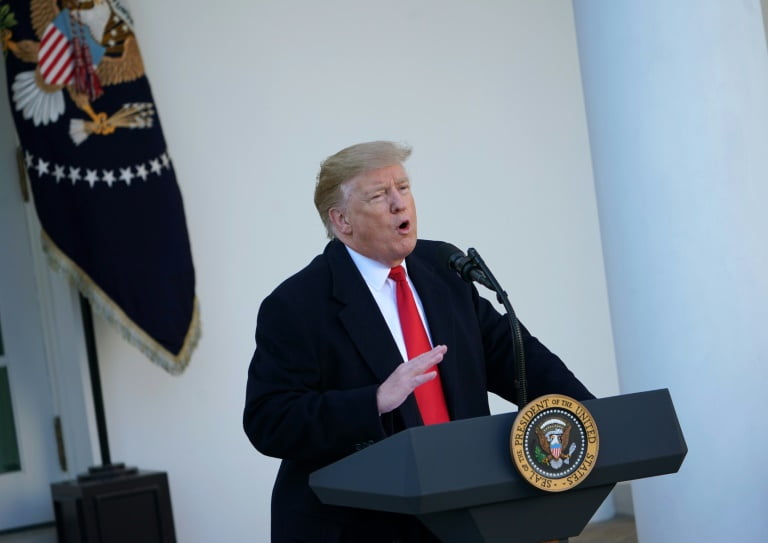 The White House confirmed on Thursday that President Donald Trump will declare a national emergency in an attempt to bypass Congress and get more funding for his Mexico border wall project.
Trump will also sign off on a congressional bill that would authorize a much smaller amount of wall money than the president had been demanding, Naija News understands.
"President Trump will sign the government funding bill, and as he has stated before, he will also take other executive action — including a national emergency — to ensure we stop the national security and humanitarian crisis at the border," spokeswoman Sarah Sander said.
"The President is once again delivering on his promise to build the wall, protect the border, and secure our great country."
A national emergency is an official declaration issued by the President to give himself special power to deal with a crisis. In this case, it will allow Mr Trump to use defence funds to pay for the wall — which he's long campaigned for to reduce immigration numbers — without needing congressional approval.
He said that the move would give him power to divert money from other budget projects into wall building.
The Senate has approved the bipartisan spending deal by a massive 83-16 margin. The deal will not provide the full $US5.8 billion Mr Trump is after, but contains $US1.3 billion for additional border security. The bill will now go to the House.
Lollllllll y'all got that trump derangement syndrome. Might want to refresh yourself on the potus executive powers….. your sides duped you into thinking you can impeach a president because you don't agree with him. He's given them weeks to make a deal. They knew the consequence

— Dustin Ruby (@DustinRuby12) February 15, 2019

Donald Trump has long campaigned for a border wall on the US border to keep out South American immigrants and asylum seekers.
In his State of the Union address last week, he doubled down on his push for funding, stating: "Now is the time for the Congress to show the world that America is committed to ending illegal immigration and putting the ruthless coyotes, cartels, drug dealers, and human traffickers out of business."
But experts say this has less to do with the alleged "humanitarian crisis" and a lot more to do with politics.
Dr David Smith from the United States Studies Centre while speaking ealier  today said Mr Trump is desperate to reaffirm the support of his conservative base before the next election.
"The reason Trump is doing this is because he is desperate to convince his base and the people who voted for him in 2016 that he is getting all this money to build a wall," he said
Over the past few months, a number of high-profile conservatives turned on Mr Trump over his perceived backdown on the border wall. Right-wing pandit Ann Coulter deemed Mr Trump "the biggest wimp ever to serve as President of the United States".
"He's doing this to save face with them," said Dr Smith. "He's also doing it because he knows he needs everyone he had in the 2016 election to come out and vote for him again. He hasn't particularly expanded his support base … and he believes this is the best way to keep his own supporters angry and motivated."
Dr Smith said there is "objectively no crisis" at the border, noting that the number of undocumented immigrants to the US has been falling since 2008.
"In 2000, there would be over 1.6 million apprehensions at the border every year. Now there's less than 300,000."
Various high-profile Democrats have issued a furious response to the declaration.
Speaking to reporters after the announcement, Ms Pelosi warned Republicans Mr Trump is setting a precedent where a future Democratic president could declare gun violence a national emergency.
"If the president can declare an emergency on something he has created as an emergency, an illusion that he wants to convey, just think about what a president with different values can present to the American people," she said.
"You want to talk about a national emergency? Let's talk about today," she added, referring to the school shooting in Parkland, Florida, that saw 17 people killed exactly a year ago.
Ms Pelosi said the shooting was "another manifestation of the epidemic of gun violence in America".
"That's a national emergency. Why don't you declare that an emergency Mr President? I wish you would. But a Democratic president can do that. A Democratic president can declare emergencies as well," she said.
Ms Pelosi and Senate Minority Leader Chuck Schumer later issued a joint statement about the planned declaration, describing it as "lawless", a "gross abuse of power" and "desperate"."Declaring a national emergency would be a lawless act, a gross abuse of the power of the presidency and a desperate attempt to distract from the fact that President Trump broke his core promise to have Mexico pay for his wall," the statement said.
"It is yet another demonstration of President Trump's naked contempt for the rule of law. This is not an emergency, and the president's fearmongering doesn't make it one.
"He couldn't convince Mexico, the American people or their elected representatives to pay for his ineffective and expensive wall, so now he's trying an end-run around Congress in a desperate attempt to put taxpayers on the hook for it.
"The Congress will defend our constitutional authorities."
Nancy Pelosi says she may file a legal challenge if Trump declares a national emergency. Via Politico pic.twitter.com/KKsmIlSN5u

— Kyle Griffin (@kylegriffin1) February 14, 2019
A number of high-profile Democrats have echoed their remarks.
Senator Kamala Harris, who is running for president in the 2020 election, described Mr Trump's wall as a "vanity project" and said declaring a national emergency was "ridiculous".Senator Elizabeth Warren, another 2020 contender, similarly said Mr Trump's "ridiculous" wall is "not an emergency", citing gun violence and climate change as issues that would be worthy of one.
Asked whether the Democrats would file a legal challenge, Ms Pelosi said she was certainly considering it.
"I may. That's an option," she said. "We will review our options. We will prepare to respond appropriately to it."
Ms Sanders said the Trump administration was "very prepared" for a legal challenge, adding that there "shouldn't be" one. "The President's doing his job," she said. "Congress should do theirs."
Source: Naija News