Biafra: Nigerians React As IPOB's Nnamdi Kanu Calls Off Election Boycott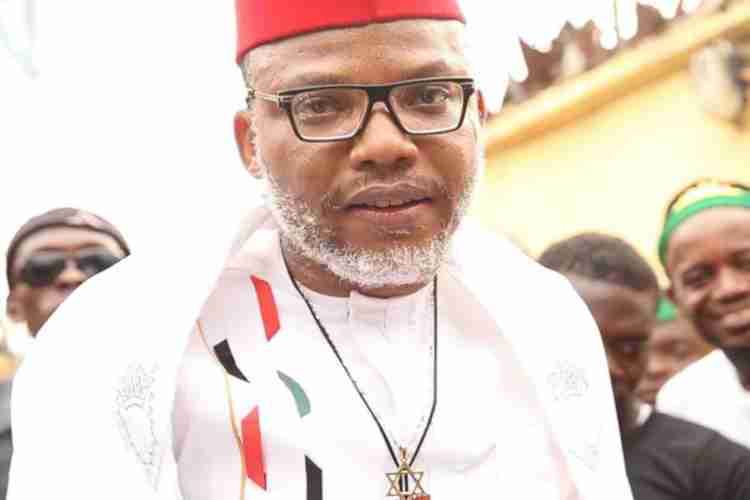 A storm of mixed reactions by Nigerians has greeted the cancellation of an election boycott by Nnamdi Kanu, the leader of the outlawed Indigenous People of Biafra (IPOB).
Naija News had reported earlier that the IPOB called off the election boycott on Thursday night in a tweet on the micro-blogging site, Twitter.
Kanu had earlier hinted that he gave the Federal Government some conditions to call off the election boycott.
Giving reasons for his decision to call the election boycott on Thursday evening, Kanu said "all our preconditions and terms have been met, signed, sealed and delivered" but did not mention the conditions.
"Having confirmed this evening that all our preconditions and terms have been met, signed, sealed and delivered; I hereby call-off the election boycott across Biafraland on Feb. 16, 2019. I dedicate this historic victory to the formidable #IPOB family worldwide," the IPOB leader tweeted.
Moments after Kanu tweeted, Nigerians took to the comment section of his tweet to berate the IPOB leader over his decision to cancel the election boycott.
Naija News captured some of the comments below…
You don't call any shots bro. You have done this to avoid shame cos the elections would have held.

— OONI OF ABUJA (@Deji_OoniAbj) February 14, 2019
We never know you talk like two faces words… Please break this whole hidden words for we are millions of people many have gone many in prison, lots of widows and so on. We're not for play, we are serious in all our doings.
Please break that words…

We Must Continue…

— Arinze Chiukwu Okoye (@GreatBiafra1) February 14, 2019
When you already asked them not to get PVC, how are your followers gonna vote?

Nnamdi Kanu just a comedian to me.

— You're on your own. (@Adeola1232) February 14, 2019
Senselessness

— dude4life (@airdemfour) February 14, 2019
Anyone who wanted to boycott has no PVC. I suggest u keep quiet and allow Nigerians vote in peace .

— AlexMbelu (@flexzyltd) February 14, 2019
I thought people from South east are very smart until Nmandi Kanu activated the mumu in them

— Passionate Nigerian ? (@oluspencer) February 14, 2019
Wow great news becos we need to get this jubrin out of office. PDP all the way for my eastern sister's and brothers. Pls you guys should all come out now and vote this Sudan man out.

— Abubakar Nofisat (@AbubakarNofisa2) February 14, 2019
You and who signed what? When and with what documents? Kindly stop this infantile foolery. Grow up bros! The Igbos are too wise to fall for these type of gimmicks. You will stay in UK having breakfast and then be calling for a referendum in Aba?

— chinelo Peters (@chinelo_peters) February 14, 2019
Do you mean to say; Nigeria and the international community has agreed that Biafra stands an independent nation?

Is Biafra referendum a go or a no go?#SNNBIAFRA

— Sparrow News Network (@snnbiafra) February 14, 2019
Please do not be fooled by Yahoo boys. As a Nigerian, it is a grave sin to be swindled into 419. We own 419. Do not allow a political jobber job you. Are you a learner?

— chinelo Peters (@chinelo_peters) February 14, 2019
Who did Nnamdi Kanu enter the agreement with? The fed govt? The SE Governors? @atiku and d @OfficialPDPNig ? The national assembly?
What r d conditons & terms of agreement?

— Mobolaji Hilario (@orsama) February 15, 2019
Biafra has nothing to offer..What infrastructures have been established down East for the igbos in the Northern parts to occupy
Y'all should take a break and pray for a better Nigeria

— Sarcastic_Mac™ (@mac_chinecher) February 15, 2019
Oops Nmadicow is talking about Nigerian Election, what brought you in to Nigeria's Affairs, you people said you're Biafraud,

— Aimar (@Aimar33652555) February 15, 2019
He don collect d money he asked for. What do u expect him to say? Meanwhile, some people will still foolishly follow him and b constituting nuisance here online and in some part of SE. Ndị ara na agba ??

— Splane (@NjakpuE) February 15, 2019
Medicine after death. @MaziNnamdiKanu this is belated and most of your followers do not have PVC to vote for their choice candidates. May Nigeria succeed.

— Ahmed Suleiman (@suleiman1529) February 15, 2019
Well, I assume you saw the 'mene mene tekel…'
Smart move . You would've lost your struggle and relevance after the 16th.

— EDEH (@kaspervic) February 15, 2019
U see the reason why i don't like people that are taking cheap drugs,Vote how? Do they even have PVC.

— Prince Jnr (@princejnr05) February 15, 2019
Confused lots, why make a detour now? The sad part of it is, majority of IPOB members do not have a PVC so what really is in it for IPOB member who does not have PVC nor the politicians who struck the deal with you.

— Dr. kene (@LordSherriff) February 15, 2019
This thought came after you realised that the SE will definitely vote despite your instruction. You are losing out

— AbattaGodfather (@Oracle_GF) February 15, 2019
Nnamdi kanu, i don't know what u think u are? But if they had stayed at home and buhari wins instead of my Atiku, they will shout lefeledum lefeledum instead of referendum. Buhari might be ill but when it comes to IPOB and Biafra he is hale and hearty. #Wisdom

— DOZIE. (@Alvinuzor) February 14, 2019
How a JOB man in the UK managed to FOOL a lot of SMART, BUSINESS MEN & WOMEN into revolting against their HOME government is still BAFFLING! I thought the ILLITERATES in NIGERIA were in other ZONES! Alas! How MISTAKEN I WAS. Welcome to the ZOO animals without PVCS!

— Nuel Makara (@MakaraNuel) February 14, 2019
I think he's working for the APC else how did he mange to fly out of Nigeria when his house e was surrounded by armed soldiers he disappear? Now am just sad for the people who lost their precious life ??

— chobby Bolaji (@rasta_trash) February 15, 2019
I know no sane man will believe that guy, how will you have dual citizenship and be controlling me that have one.
Where are his children?
Is he married?
Why do they always run?
Why can't they stay and fight for what they believe in?
Instead they leave the masses to die. SMH

— chobby Bolaji (@rasta_trash) February 15, 2019
Download Naija News App. Advertise with us. Send us enquiries and press releases.