Mammoth Crowd Receives Buhari In Katsina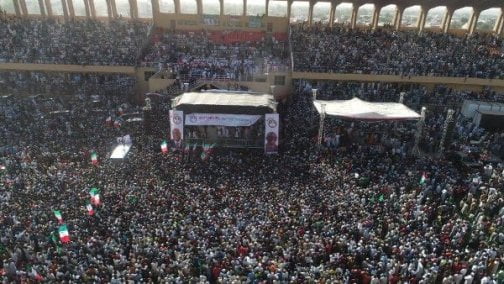 In about 48 hours to the much anticipated general election of Saturday, February 16, crowds of supporters of the ruling All Progressives Congress (APC) were cited both inside and outside the Muhammadu Diko Stadium in Katsina.
Naija News reports that the crowd were cited around waiting for the arrival of the president who is on his last lap of the presidential campaign ahead of Saturday's election.
Reports say the 35,000 which is the capacity of the stadium is filled up to the brim and more and more supporters were seen outside and cannot enter the stadium due to the mammoth crowd.
Naija News found out that the stadium was full to the brim such that the supporters could hardly place their legs.
This is coming in less than 24-hours after Naija News reported that some supporters died as a result of overcrowding in Rivers state presidential campaign
The 76-year-old president is a native of Daura in Katsina state.