I Did Not Ask INEC To Post-Pone Zamfara State Elections – AGF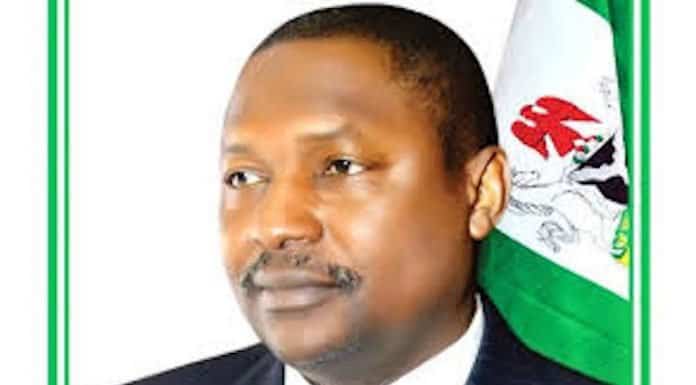 AGF Explains Content Of His Letter To INEC
Abubakar Malami, attorney-general of the federation, has explained that he is not asking the Independent Electoral Commission, INEC to Post-pone the Zamfara State elections.
The AGF had been under fire since he wrote a letter to INEC  suggesting that the elections in Zamfara State should be postponed, Naija News reports.
In a statement by his spokesman, Salihu Isah, released today, the attorney general said he did not ask the commission to postpone the election in the state but only asked INEC to comply with the directive of the appeal court.
Malami said since the court of appeal confirmed that the APC in the state held primary elections, section 38 and 39 of the Electoral Act empowered the commission to postpone the election.
"The attention of the Office of the Honourable Attorney General of the Federation and Minister of Justice has been drawn to a recent publication by certain social media and conventional news outlets stating that this Office had purportedly requested the Independent National Electoral Commission (INEC) to postpone the elections in Zamfara State," the statement read.
"In our letter dated February 13, 2019 addressed to the INEC Chairman, the Honourable Attorney of the Federation in reacting to a petition from M.A Mahmud informing this Office of the subsisting Court of Appeal decision in CA/S/22/2019 which effectively upheld the APC primaries in Zamfara state, wrote to INEC informing them of this development and requested the Commission to comply by extending the time within which the political party candidate in the Gubernatorial elections.
"In view of the fact, now that the Court of Appeal has upheld the primaries as valid, the APC in Zamfara State will need a little time to catch up with its contemporaries in the election.
"Granting them this concession is not necessarily a favour but a right that inures to all contestants under similar circumstances.
"Consequent on the above, INEC is invited to comply with the judgement of the Court of Appeal by admitting the results of the APC Zamfara State Primaries and to also comply with the provisions of Section38 of the Electoral Act which empowers INEC to postpone the election for the governorship, National Assembly and House of Assembly Elections."