Biafra: Nnamdi Kanu Currently Exposing 'Jubril' (Listen Here)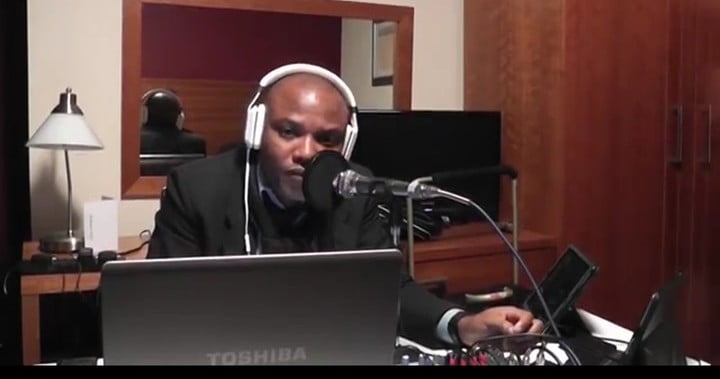 A live broadcast of the leader of the outlawed Indigenous People of Biafra (IPOB), Nnamdi Kanu, has commenced, with the secessionist leader giving a "definitive expository presentation" on Jubril Aminu Al-Sudanni, an alleged impostor of President Muhammadu Buhari in Aso Rock, the nation's Presidential Villa.
Naija News reports that Kanu is broadcasting from the Radio Biafra studio in London, United Kingdom.
The broadcast started 12: 33 pm Nigerian time with Iyke Peters, a presenter of the radio station announcing that Kanu would soon come on air.
"Sorry I am coming late, our leader, Nnamdi Kanu is not around yet, I will continue the programme until we connect with our leader, I am sure he would soon join us," Mr Peters said as monitored by Naija News reporter.
Kanu started giving a "definitive expository presentation" on Jubril at 1:20 pm Nigerian time.
Listen to the live broadcast: HERE.
Meanwhile, Naija News reports that since Kanu resurfaced in Israel last year October, he has been alleging that President Buhari is dead and has since been replaced by Jubril from Sudan, an allegation the President debunked last year.
Kanu is leading a group seeking secession from Nigeria. The group has since been proscribed by the Nigerian government.