2019 Election: Buhari 'The Laundryman' Has Dealt With Corruption, Elijah Wilkie Says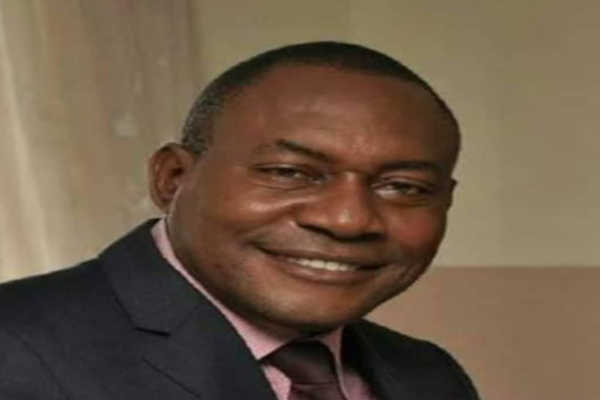 With the 2019 Presidential and National Assembly elections just two days away, the Senatorial candidate of the Allied Congress Party of Nigeria (ACPN) for Delta South, Barrister Elijah Itse Wilkie, has spoken to Naija News on various topics which includes the reelection of President Muhammadu Buhari, what his plans are for the people of Delta State, the controversy surrounding ACPN, Emmanuel Uduaghan, Chief Great Ogboru, amongst others.
Naija News: Why are you vying for the Delta South Senatorial ticket of the ACPN?
Elijah Wilkie: I am contesting because Delta South Senatorial District desires and deserves a vibrant and indomitable representation, courageous legislation and effective governance. These I am ready to deliver to the people. The work is much. I am ready to work. Most of our laws are obsolete. They fall short of a developing society and are below the expectations of the 21st century. Where there are good laws there are no adequate provisions for the requisite compulsive supervision and monitoring. There should be laws to monitor the supervisors of state responsibilities. Corruption is enabled where there are a monopoly and lack of checks and balances. Corruption in Nigeria will continue to strive without laws to adequately take away the monopoly of responsibilities. The judiciary needs more fortification from manipulation and corruption. Somehow somewhere, our laws are weak. I shall present at least one bill every month. I shall demand due process and accountability in governance. Anti-corruption as a crusade shall be reinforced and seize to be a slogan. Arrogance and impunity of political office holders shall be reduced if not annihilated. I shall be approachable as an epitome of humility. The issue of oil flaring needs to be dealt with once and for all. Our communities have oil but they are a sour sight to behold. The warring tendencies in our oil communities must find peace, eschew rancor and develop. The safety of water ways needs attention.  GRIP is almost forgotten, it must be revisited. Coastal development enabled by coastal roads; if you can take our oil, you must open up the riverine and coastal regions as well. Where are the developed metropolis along the coastal regions apart from Lagos? We need a master plan enforceable by law. The educational system in the riverine need revitalization; NDDC and the Ministry of Niger Delta have become porous holes for corruption. We need results, not adverts costing enough to construct more roads! Do the NDDC constructed roads look like roads constructed by the Federal Government? They seem to me like Local Government Council constructed earth roads. Government agencies must be made more responsive to their duties. These deceits must stop.  The constituency projects need consistency with the needs of the people. The issue of restructuring needs to be settled once and for all. The local government must be autonomous or abolished totally because they are conduits of corruption and oppression. The states need more power but must have more checks and counterbalances so that the Governors will not be demigods. Appropriate laws on the exploration of fishery and seafood along the deep sea especially by foreigners. We need appropriate laws on admiralty. Exports and imports must meet international standards.
I will draw the international communities' attention to business opportunities along the coastal regions: Palm, cassava, sugar cane, plantain, banana, rice seafood especially shrimps, snails, periwinkles etc. The tax regime of the common man is unjustifiable. Considering our level of productivity, the average Nigerian is overtaxed. We need good laws to encourage and create the enabling environment for the productivity of the SMEs.
Above all my voice shall make the Federal Government empathize and feel the pain of the people of Delta South: the penury in the face of prosperity, the unutilized opportunities from federal character; the issue of insecurity in the area must be a priority.
Somebody from the North once asked me whether Senator Ovie Omo Agege is the only Senator from Delta State? I was shocked. As Delta State progressives are proud of Senator Omo Agege, very soon they will be proud of my representation. I am bold, courageous and proactive. I shall be loyal to the mandate delivered to me by the people and will not disappoint them.
You will be contesting against former governor Emmanuel Uduaghan, a political giant why should Delta South residents vote for you?
Every giant like Goliath has his David. No one ever thought Mr. Fix it could be fixed! No one is programmed to enjoy relevance forever. With due respect to him, I think he should retire and be an elder statesman. You measure a man by the content of his words and his compliance with his promises. Dr. Emmanuel Uduaghan promised Delta without oil; Delta to become a hub of commerce with the ports working and the road from the ports to Asaba adequately conveying goods to the Eastern states; he promised ICT of world-class; and the Warri Trade Centre.  Visionaries like us where swept away thinking that at last a Philosopher King with clear visions has come. Now we have our clear testimonies of failures. What can you fix as a Senator your could not fix as an Executive Governor? Dr. Emmanuel Uduaghan has been commissioner, SSG, and Governor of one of the richest states in Nigeria for eight years. I think he should not overstretch God's grace. My word to him is that too much mouthful chocks. I think he presently has enough problems with AVM Terry Okorodudu on the conduct of his primaries.
Why does Senator James Manager not deserve a 5th term? Especially as a veteran at Senate?
Senator James Manager has been everything he desires to be from party chairman to commissioner and now as a serving Senator for 16 years. Four more years will be an overindulgence and constipative overdose. He can't be there forever. He has nothing new to offer. The people desire and deserve a fresh breath. The people have rejected him. They have seen his best and they are dissatisfied.
The contest for Senate is between Dr. Emmanuel Uduaghan and Senator manager on the one hand and the people of Delta South on the other who have seen as in Nigerian home video their parts 1, 2, 3, and even 4. They have seen their best and they are dissatisfied. As far as the people are concerned, I am the only candidate for the election. The electorates need people who can tell their legacies within a breath with confidence. Two of them are part of the Oligarchy who oppressed our people. They are of the same political family headed by James Ibori. A vote for either of them is a vote for the same person.
What are the personal projects you have embarked on to help your people?
I have been a legal adviser to my community severally. I left a legacy of humility, fearlessness and courageous representation. This is what I am bringing to the red chambers. Your major qualification as a legislator is your voice. My voice will be heard. Others are secondary.
Are you satisfied with the administration of Governor Ifeanyi Okowa?
Okowa has failed to deliver on his SMART agenda. More importantly, the political bondage and crushing yoke of the people of Delta state since 1999 by a political oligarchy has to be broken. The answer is Olorogun Great Ogboru. He made it early in life as a businessman and proved his capacity in the fish industry with his international tentacles as far away as to Namibia. There is no other better candidate. He has always won all the elections and was rigged out. All the agents of this evil that have defected to APC have made their confessions. May God forgive them. Amen. However, affliction shall not arise again. They shall proceed no further in their evil. They have come as wolves in sheep clothing. Their shroud shall not hide them for too long. Their decay will identify who they really are.
Do you have what it takes to defeat the James Ibori 'Political family' allegedly backing Uduaghan?
This is the struggle of the progressives in Delta State. All the progressive minds have said there must be change. The change is now. This is the opportunity of the people to do what is right. Reject those who have impoverished them and stand for themselves. It is the people versus the oppressive oligarchy. We shall triumph. It is the people that have what it takes with their ballot papers. They will do what is appropriate. Vote out oppression and the oligarchy.
Are you satisfied with the achievements of President Muhammadu Buhari and do you think he deserves a second term?
I believe he does. No one has attacked the issue of corruption the way Mr. President has done. He is Mr. Intergrity. He has been like the laundryman cleaning the rot in Augean stable. He has done much removing the rubbish, trash, and junk. The next level is to build on the clean platform. This is what I have maintained over the years since he came to power.
Do you have a godfather and what is your take on godfatherism?
My Godfather is God the Father. He is my Godfather. I have a political leader I believe in. He is the humblest of homo sapiens. A visionary and indeed a Philosopher King, a mentor and an encourager, a hero appreciated by his people.  His followership is awesome exhibited in total devotion and sacrifices. His offer to the people is not monetary but complete surrender to restore their trust. His devotees see him as their ship of hope to covey the best of governance and indeed the dividends of democracy to them. They love him and sacrificially follow him. A Democrat, not oppressive, he encourages you to be you. He is Olorogun Great Ogboru. He is from all reports and rally statistics the incoming Governor of Delta State. I believe in this man. I urge all to vote for him. He is my mentor and my leader.
Does ACPN have what it takes to wrestle power from the PDP in Delta State?
As a party no. But, as an individual based on the perception and acceptance I have and the faith they have in my capacity to deliver in Delta South, I say yes.
How do you plan to curtail youth restiveness (militancy)?
There must be peace so that there will be development. The youths are restive because they are not properly engaged. We need to give them something productive and worth their efforts. Give them hope and faith in this country. If they can get employment, start a business they know can grow, restiveness will be brought to rest. They are waiting for visionaries like us to show the way. I will, I promise. They will find rest as we shall encourage their uniqueness, provoke them to love, make them seek to know and acquire knowledge and above all help them to discover their visions and pursue their aspirations.
The ACPN has been embroiled in some controversies following the withdrawal of its presidential candidate and subsequent endorsement of President Buhari, what is your take on these?
The ACPN presidential candidate has always been President Mohammandu Buhari. Oby Ezewesili came by the way. She left after causing injury to the party. The party has been campaigning for Mr. President before and after then.
There is a general belief that you are close to the Guber candidate of the APC, Chief Great Ogboru, is he backing you for this position against the candidate of his party?
As said earlier, Olorogun Great Ogboru is my mentor. My supporters and I are campaigning for him. We are actually APC in spirit. We are in ACPN in protest to Uduaghan picking the ticket for Delta South. We believe in Olorugun Great Ogboru. He will deliver us from the shackles of political captivity we have found ourselves in Delta State. We urge all to vote for him and vote for me for Senate, Delta South.
You are lucky that you are Itsekiri. That is to your advantage. It is believed that an Itsekiri should be the next Senator?
I think we should be talking about competence and capacity. Ethnic advantage will do no one any good. Being detribalized is not better. The issue of a detribalized Nigerian has been played and now nobody wants to be deceived by it. That card has its burden, so burdened that it cannot fly. Yes, I am Itsekiri from Ugborodo. I am contesting because I am competent. My Cerebral acumen, intellectual sagacity, motivational index balanced with my professional background and experience are my selling points. Every tribe is unique. Capacity is not measured by the tribe. I believe in the Delta South as a District that can excel.