See What Human Right Activist Told Buhari To Do About Leah Sharibu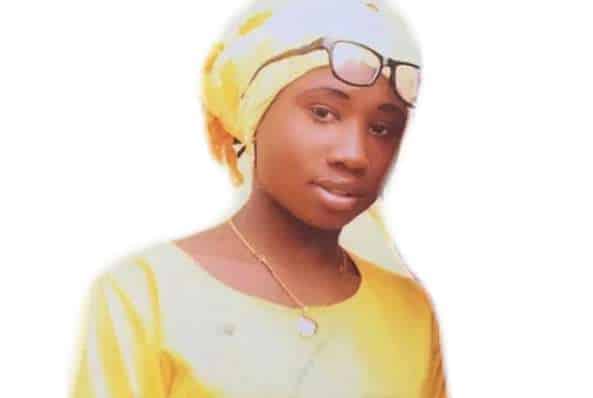 President Muhammadu Buhari has been urged not to allow the lone Christian captive abducted from Dapchi in Yobe State last year, Leah Sharibu to remain in captivity.
A Human Right Activist, Ikeazor Akaraiwe, who made this known in a letter noted that the coming week would make it a year the that by Islamic terrorist group, Boko Haram kidnapped the 14-year-old girl with 117 other school girls and while other girls who are Muslims were released after negotiations with Federal Government agents, up till now, Leah is yet to be released by her abductors because she refused to renounce her Christian faith.
Mr. Akaraiwe reminded the President of an oath he swore in 2015 to uphold the constitutional rights of Nigerians, and so he should do same to Leah Sharibu because she, being in the hands of the terrorists is a breach of her constitutional rights.
The letter dated February 6, 2019 and made available to Vanguard opened with a congratulation to the president on his various efforts to make Nigeria more liveable for the forgotten poor.
"However, I am forced by conscience to bring to your attention many forgotten girl citizens abducted by terrorists, one of them in particular, Miss Leah (Liya) Sharibu. February 19, 2019, three days after the general elections in which you are offering yourself for re-election, will make it one year to the day 14 year old Miss Leah Sharibu, now 15, was abducted in Dapchi, Yobe State.
"Many were abducted before her, with her and after her, but what makes her case particularly pathetic is that all her schoolmates abducted together with her were released one month after the abduction, except for her and about five others who died in the course of the abduction. In her case, because it managed to get into the public domain that her refusal to renounce Christianity for Islam is reason for her continued incarceration!
"Your Excellency, I plead Sections 34 (2), 35 (1), 38 (1), and 42 (2) of the 1999 Constitution you swore to uphold for Leah (Liya):
S. 34 (2) – Dignity of the human person (in particular, not to be held in slavery or servitude);
S. 35 (1) – Right to personal liberty;
S. 38 (1) – Freedom of thought, conscience and religion; and
S. 42 (2) – Freedom from discrimination, disability or deprivation on account of circumstances of birth.
Mr. President, you were born into Islam by virtue of it being your parents' religion, and as you matured, you took a conscious decision to remain a Muslim, in keeping with your fundamental rights. Citizen Leah (Liya) was born into Christianity and at a yet tender age of 14 was confronted by gunmen with choices many of us could not contemplate at that age, and in keeping with her constitutional right, has made her choice. And to the best of our knowledge and belief, has been deprived of her liberty for making that constitutional choice.
Mr. President, you swore to uphold our Constitution. It is not enough that you are doing your best, we need to see you to be doing your best. Perception is reality. Get this child released before election day February 16. Mr. President, you campaigned for the presidency on the footing of security. Four years on, we ask you to free this child who is the age of some of your grandchildren, and younger than my four daughters, before February 16. Mr. President, give a hundred men in exchange for her life if need be but do not allow her remain in captivity, and if she is dead, do let us know, so we may mourn her. As commander-in-chief, you are mourner-in-chief, so, mourn her publicly. Let us see your tears flow, so we may know that you care for all, Muslim and Christian, Igbo, Bachaba and Fulani alike.
Mr. President, it will be impossible for me as a citizen to approve of your remaining President for another four years while Citizen Leah (Liya) remains in custody. Conversely, the release of this child who has become a metaphor for whether Nigeria is all-inclusive or not, before election day, will inspire confidence in your commitment, Mr. President, to our multi-ethnic, multi-religious status as a nation, a confidence which is in dire jeopardy. Long live the Federal Republic of Nigeria.