Biafra: IPOB's Nnamdi Kanu Vows To 'Destroy' Jubril Of Sudan On Thursday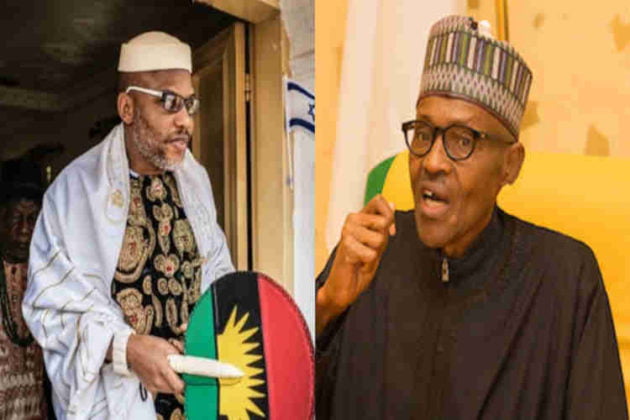 Again, Nnamdi Kanu Says Buhari Is Dead
The leader of the outlawed Indigenous People of Biafra (IPOB), Mazi Nnamdi Kanu has threatened to expose and destroy Jubril of Sudan on Thursday.
He also lamented that many have so far failed to believe him on the existence of an impostor identified as Jubril of Sudan occupying Aso Rock.
According to Kanu who spoke in a live broadcast from London on Sunday, those benefitting from the existence of Jubril have been sponsoring media propaganda against him despite all the pieces of evidence he has made public.
He has, therefore, vowed to collapse Nigeria with the hidden truth about the alleged death and replacement of President Muhammadu Buhari with Jubril Al Sudani on Thursday.
He said, "Coming to the issue of Jubril, some people have wondered why I didn't organise a live TV expose in Israel as planned.
"I want to tell you it's because of the astronomical costs involved – $86,000 to be precise and I want the world to also know that intended beneficiaries of the demise of Jubril wanted to take advantage of the fact that IPOB was doing all the work for them.
"They simply wanted to waltz into office without sweating for it. That was why I terminated it.
"Moreover, all the scientific evidence I placed before the Zoo population did not move them, so I realised I was dealing with people that lacked conscience and consciousness.
"There was a conspiracy or should I gang up against my expose on Jubril. Like they did with Anambra elections, anything coming from IPOB must be suppressed by an alliance of one Nigerianists.
"Anything coming from IPOB that will collapse the Zoo they fight it. Those that control the levers of power in the Zoo understand that the fall of Jubril will lead to the end of the Zoo as we know it, so they used compromised media in Nigeria as always to try and rubbish it but let me see if they can overcome this proof.
"I will destroy what is left of Jubril on Thursday in a live presentation."