Ambode Inaugurates Tinubu's Rehab, Skill Acquisition Centre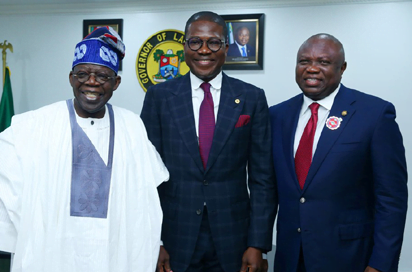 Lagos State Governor, Akinwunmi Ambode on Monday inaugurated a Drug Rehabilitation and Skill Acquisition Centre in Ajah.
Naija News reports that the rehabilitation centre was built by the Senator, representing Lagos Central District, Oluremi Tinubu who had started the project since 2012.
Oluremi Tinubu expressed optimism that the project would go a long way to benefit Lagosians and especially the immediate community.
The centre is named after Prince Tajudeen Oluyole Olusi (OON).
In his remark, the governor of Lagos state, Governor Ambode commended Senator Tinubu for devoting constituency funds to a life-changing project as the rehabilitation centre. Ambode commended the senator for not giving up on the project which she had started since 2012.
The to life-changing projects, saying that the facility remains one of her legacy projects.
Ambode described the Senator as a dogged, committed, consistent and determined woman.
In his words, the state governor said; "So much has been said by everyone on what she stands for, however, if I call her a dogged fighter, I would not be wrong. To the mere fact that she spent two terms in the Senate and she has been able to bring more constituency projects than any other senator, it's a confirmation of how she fights for her community.
"This is a project that commenced in 2012 and she is also relating the story of how the 22 Baales put her on her toes and because she fought back, that is why we are here this morning.
"If I say she is a very consistent person and determined woman, I am not off course. She has told you how she put us on our toes that we ensured that the resources she has committed to this project does not go down the drain and I thank her for putting us on our toes."
"Of all the constituency projects that you have initiated and completed, this one is special in the sense that you have once again challenged government in the area of taking care of the needy.
"We all know what taking care of the needy entails, especially for a drug rehabilitation centre of this magnitude that has been put in place here for us to take care of those ones who are on the streets without help.
"In addition to this drug rehab centre, there is a skill acquisition centre to complement the need of whoever we are able to rehabilitate and empower them to become relevant in the community," he said.
Governor Ambode assured that the facility, would be managed by the State Government and that the facility would be given top most priority in the administration of the affairs of the state.
Naija News reports that the Lagos state governor directed the ministries of Women Affairs and Poverty Alleviation as well as Youth and Social Development to ensure that the two facilities become fully operational before May 29, 2019.