Biafra: Nnamdi Kanu Spits Fire In Second Live Broadcast From London (Audio)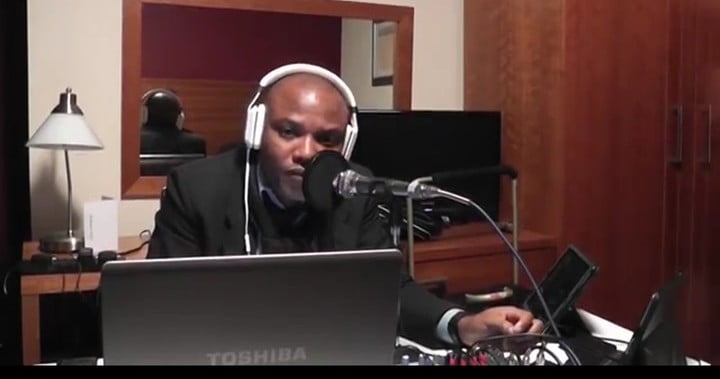 The leader of the outlawed Indigenous People of Biafra (IPOB), Nnamdi Kanu, delivered his second live broadcast via Radio Biafra in London, United Kingdom on Saturday, February 9.
During the broadcast monitored by Naija News, the IPOB leader spoke on Atiku Abubakar's eligibility to contest the 2019 elections, Jubril Aminu Al-Sudanni, an alleged impostor in Aso Rock, election boycott order amongst others.
On Atiku Abubakar, Kanu said the PDP Presidential candidate is not a Nigerian, hence should not contest the forthcoming presidential election in the country.
His words: "He (Atiku) was born in 1946, when did they join Nigeria? Was Atiku therefore born a Nigerian?" The IPOB leader asked and those in the studio responded: "Not at all", Kanu then added: "Then he shouldn't be contesting for the Presidency".
"PDP e-rats got Atiku into trouble, not me, they attacked IPOB and that is the worst thing any idiot could do on earth because we come after you with everything we've got and in everything. At the end of the process you will be sunk, never to rise again".
"Where does Atiku come from?" Kanu asked those in the studio responded: "Cameroon", Kanu added: "Can anybody born outside of Nigeria contest for the Presidency"? They responded: "Not at all."
On Jubril, the IPOB leader said he would hold a world press conference on Thursday, February 14 to bring Jubril Aminu Al-Sudanni's narrative to an end.
"For those talking nonsense about us, on Thursday, I will bury what is left of Jubril Aminu Al-Sudanni.
"I will have a world press conference here in London and I will ask sensible white people if that thing there is the dead Buhari or not. All of you know that Buhari is dead, everybody knows that very well but because they don't want IPOB to have the credit for it that is why they all ganged up, conspired with Yoruba media. The same PDP, they know that Buhari is dead but they don't want to talk about it why because they know if they do, the zoo will collapse and Biafra will come so they don't want it," Kanu said.
On election boycott, the IPOB leader said he would call off the election boycott if the President Muhammadu Buhari-led Federal Government heeds to his demands.
The IPOB leader said: "Our boycott is not against anybody. I asked for a boycott in 2014 before 2015 elections as at that time, Atiku left Jonathan our brother to go and campaign for his own brother who is a Fulani man, Buhari.
"Do you know Atiku was in PDP? Are you aware he was in PDP? Vice President in PDP and he decamped to APC. Now you're asking IPOB to reelect him? What makes you think that I Nnamdi Kanu will ask this very wonderful army of heaven to vote in 2019 with nothing?
"I gave them my conditions if they don't accept to my demands I will publish it on Friday that the world may know what we are asking for. If they sign it then I will call off the boycott, if they don't sign it we proceed full steam ahead because our priority is Biafra, nothing more, nothing less, " he said.
Kanu also said all he wants to see is the Biafra Republic after which he would gladly die.
"I am not asking for anything else in life, all I want to see is Biafra after that then I can die," the IPOB leader said.
Listen to everything Kanu said below…
https://youtu.be/uDYApDrRY6w