We Will Deliver Lagos Votes To Buhari– Ambode Assures APC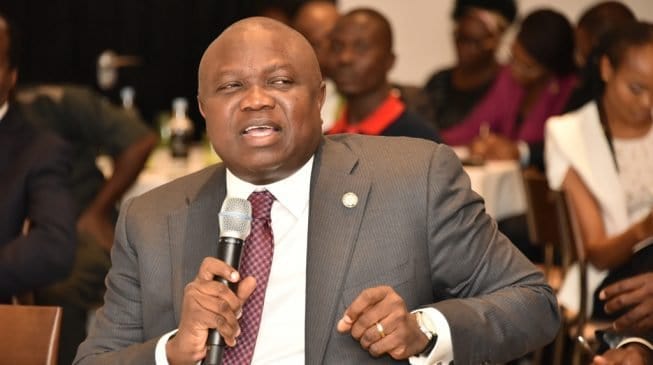 The incumbent and outgoing governor of Lagos state, Akinwunmi Ambode on Saturday assured President Muhammadu Buhari that the residents in the state would deliver their votes for the president and the All Progressives Congress (APC) at large.
Naija News reports that the governor made the assurance when he spoke at the presidential campaign of the APC, held at the Teslim Balogun Stadium in Surulere, Lagos.
Ambode noted that the President had in his previous years in office, supported the growth and infrastructural development in the State and would do more if he is given another mandate of four years. The Lagos state government said that the President had in his past years showed competence on his capability to making life comfortable for residents.
The state governor said in his words; "In and outside of the stadium, you can see the crowd that has turned out here and we are very grateful that Lagos has been signed, sealed and delivered to APC already. The message is very clear.
"We appreciate Mr. President for his support to our State in the last three and half years. The achievements that we have recorded in Lagos were possible because of his support. This election is not about tribe or religion, it's about infrastructure, jobs and the economy and the right path to go is to go to the APC.
"If you see what we are going in Lagos already, you will see that the Airport road is not for the Yorubas or the Igbos or the Hausas, its about making life comfortable for Nigerians and that is why Mr. President has continually supported all our projects by even refunding some of the funds we used for capital projects so that we can complete more projects," Governor Ambode said.
Ambode appealed that the 2019 election dated for February 16 should not be based on blood-shed, tribalism or nepotism. He urged electorates to vote for the purpose of a better Nigeria. He furthered assured that the state will also deliver the votes of residents to other National Assembly candidates of the All Progressive Congress (APC).
Recall that Naija News had reported that the APC presidential campaign is dated to hold on Saturday, February 9.