See How Nigerians Reacted To End Of ASUU Strike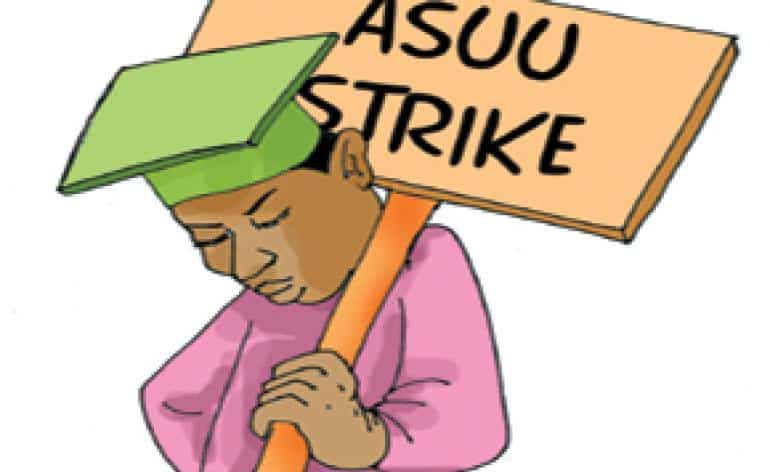 Nigerians have reacted to the agreement reached between the Academic Staff Union of Universities (ASUU) and the President Muhammadu Buhari-led Federal Government to end the over three months strike.
Naija News had reported that the agreement was reached and a deal was signed at a meeting in Abuja, Nigeria's capital on Thursday, February 7.
Nigerians took to the microblogging site, Twitter, to expressed mixed feelings over the end of the industrial action.
See reactions below:
The main reason why most student's are happy ASUU called off the strike is because they can now resume their campus fornication lol

— Clinton ? (@Clinton_Vice_B) February 7, 2019
When ASUU suspends strike 4 days after you got a job. pic.twitter.com/4MtBvu1xzC

— hardaytolah (@Hardaytolahsama) February 7, 2019
Retweet if you want ASUU to do giveaway with part of the money they collected pic.twitter.com/eBrl7FOrMx

— Ìléríolúwa omo Ibadan ?? ?? (@IlerioluwaPr) February 7, 2019
When u are jubilating that ASUU strike has been called off and u suddenly remember that your SEMESTER RESULT is on the way. pic.twitter.com/mbAD2ulGEq

— Abdool Moh  (@abdool_moh) February 7, 2019
[ASUU calls off strike]

Lecturer: Where did we stop in our last class?

Students: pic.twitter.com/ivVG4xIp4y

— •Drexx?️♪ (@drexxNieL09) February 7, 2019
BREAKING: ASUU CALLS OFF STRIKE, SIGNS DEAL WITH FG.

— APC Nigeria (@APCNigeria) February 7, 2019
*ASUU calls off strike

Fornicators: pic.twitter.com/zLvpiHVrB0

— sabiboy???? (@Victor82693107) February 7, 2019
Imagine qualifying for BBN naija then ASUU calls off strike, then you bone them and go for BBN. Exams starts the week you got in, then you got kicked out of the house the next week pic.twitter.com/yPSyVGZogz

— Shuka Smith♣? (@smith_chuka) February 7, 2019
asuu strike suspended

Unilag bed bugs: pic.twitter.com/XKbXqmsS4A

— 23rd savage? (@MPsychs) February 7, 2019
The students I know: How can ASUU keep us at home for 3 months

Between ASUU and Ronaldo I don't who who strikes the most

I'm tired of staying at home.

I want to go to school.

Assu: calls off strike.

Same students:

But why ?
Why did they call it off?

Una dey mad pic.twitter.com/4LGCekcbEk

— PASTOR OLA ? (@Biisi96) February 7, 2019
Now that ASUU strike is over.. Let fornication Begin " I am Downstairs come outside" meet me at love garden etc ??
Unilag students can testify ??#AsuuStrike #ASUUstrikehasbeensuspended

— BREAST LOVER? (@Unilag_panda) February 7, 2019
Asuu just called of strike.

**Opens class what's app group
** Class rep is typing…
** Class rep is typing…

Class rep:
"deadline for submission of assignment is Tuesday"

Me right now: pic.twitter.com/V37vNMatmu

— niightmares ? (@naiightt) February 7, 2019
How I'm going to release the first time I have s3x when I resume back to school from ASUU strike ?

This celibacy thing no easy abeg ?? pic.twitter.com/A2Lg1N9Gws

— ??ADE? (@YorubaNerd) February 7, 2019
Students – ASUU might not call off the strike!

Me – *keeps flexing about*

Breaking news – ASUU strike has been suspended!

Exams – pic.twitter.com/TFs07gfDxa

— Pablo Noser (@pablobignose) February 7, 2019
This is what my lecture will sound like cause obviously i don forget everything i learnt????#ASUU #AsuuStrike pic.twitter.com/R1Rp2Tl4Ye

— LUMEE™️ (@Lumee_m) February 7, 2019
Download Naija News App. Advertise with us. Send us enquiries and press releases.