Trump Nominates David Malpass To Replace Jim Kim As World Bank President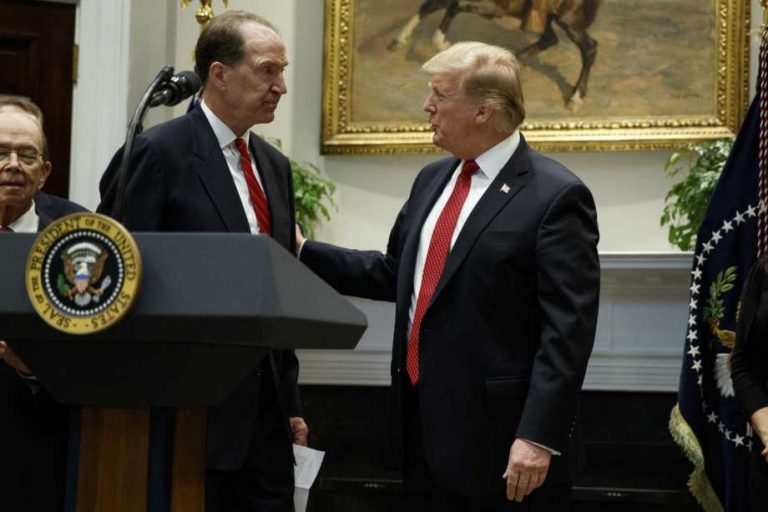 US President Donald Trump has nominated David Malpass, a critic of multilateral institutions like the World Bank, to replace Jim Yong Kim as the World Bank president, Naija News understands.
Malpass is a Trump loyalist, who served as senior economic adviser to the president during his campaign in 2016, and currently the undersecretary for international affairs at the Treasury Department of the United States.
"I am certain there could be no better candidate to lead the World Bank than David. He's going to do very well," Trump said from the White House on Wednesday night.
Speaking at the White House on Wednesday, Malpass said he would seek to implement reforms approved last year after negotiations to increase the bank's lending capital by $13bn, such as curbing loans to and charging higher interest to higher income countries like China.
Trump officially nominates David Malpass, an outspoken World Bank critic, to run the World Bank.

CNN Global Economic Analyst @RanaForoohar says "There's a lot of complaints" from other nations over this choice. pic.twitter.com/FVvAf02VEl

— CNN Newsroom (@CNNnewsroom) February 6, 2019
"I'm very optimistic that we can achieve breakthroughs to create growth abroad that will help us combat extreme poverty and increase economic opportunities in the developing world," Malpass said.
He added that a key goal for the World Bank would be to ensure that women achieve full participation in developing economies.
If his candidacy is approved, Malpass would succeed Jim Yong- kim, who announced in January he was stepping down three years before his term was set to expire amid differences with the Trump administration over climate change and development resources.
If David Malpass is indeed President Trump's nominee to be the next President of the World Bank, I hope that the UK government, and other European governments, will support another candidate. It is a simple majority vote. I agree with @JustinSandefur below: https://t.co/6WMkYCQs8j

— Owen Barder (@owenbarder) February 5, 2019
The departure of Kim, who was first nominated by former US President Barack Obama in 2012, is likely to become a contentious fight between the Trump administration and other countries who believe the United States exerts too much influence over the bank, which is based in Washington, DC.
Source: Naija News