Theresa May Faces Uncertainty In Brussel As EU Leaders Reject Renegotiation Of Brexit Deal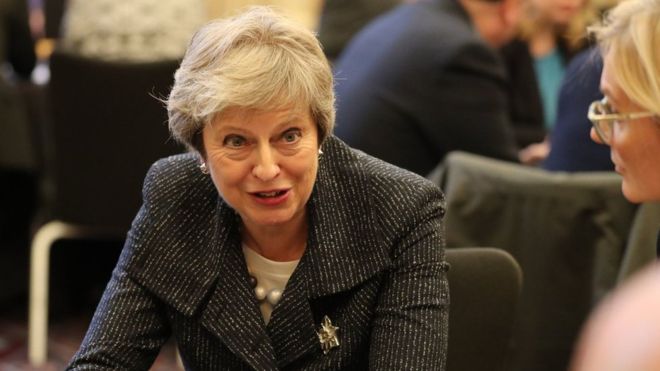 UK Prime Minister Theresa May heads back to meet EU leaders in Brussels today as she seeks a way to avoid a no deal Brexit in 50 days time.
Her visit is aimed at securing changes to her government's withdrawal agreement with the EU that was rejected by the House of Commons last month.
Her tour was not expected to be fruitful one but expectations were dampened further yesterday by EU officials Donald Tusk and Jean-Claude Juncker.
The president of the European Commission, Juncker, told reporters May already knows and accepts that the EU will not re-open talks on the deal.
And Tusk, who represents EU member governments as head of the European Council, triggered outrage across the Channel by damning pro-Brexit politicians for — in his view — recklessly failing to plan.
"I've been wondering what that special place in hell looks like, for those who promoted Brexit without even a sketch of a plan how to carry it out safely," Tusk said.
British PM Theresa May has met with EU Commission President Jean-Claude Juncker over the Brexit stalemate. A statement describes the talks as 'robust but constructive.' Juncker repeats the deal itself won't be reopened but says words could be added to the Political Declaration. pic.twitter.com/6uoobQR1Zb

— CBC News Alerts (@CBCAlerts) February 7, 2019
Juncker, at a later news conference, did not use the same language, but cheerfully laughed off Tusk's remark. But he also repeated the same warning that the withdrawal agreement, and the backstop clause designed to keep the Irish border open if no future trade deal is agreed, will not be changed.
"She knows that the commission is not prepared to reopen the issue," Juncker said, after talks with Taoiseach Leo Varadkar, who also insisted on the need for the backstop.
This apparently united front did not daunt Number 10, who insisted that the British parliament's rejection of the deal meant that May must seek material changes to the accord or see it fail.
Source: Naija News