Flood Hits Northeast, Displaces Residents In Australia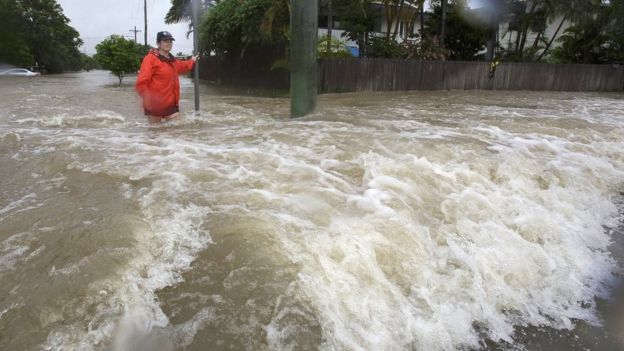 Thousands of persons have been forced to abandon their homes in the northeastern part of Australia as a result of a heavy downpour on Sunday, February 3.
The heavy flood turned the streets into rivers as the tropical north experiences heavy rains during the monsoon season.
The flood sacked thousands of residents from their homes in the city of Townsville in Queensland, destroyed their electricity and flooded their major roads.
While reacting to the incident, the Bureau of Meteorology state manager, Bruce Gunn warned the citizens of more severe weather that could whip up tornadoes and destructive winds in the days ahead.
Naija News was told that up to 20,000 homes are also at the risk of being inundated if the rains continue.
While managing the state of the flood in Queensland, military personnel were cited delivering tens of thousands of sandbags to affected locals while Queensland Premier, Annastacia Palaszczuk warned residents to be careful and be more conscious.
Annastacia Palaszczuk described the flood disaster as a one in a lifetime case in Australia.
"It's basically not just a one in 20-year event, it's a one in 100-year event," she told reporters Saturday.
The Bureau meteorologist, Adam Blazak warned that the heavy downpours could continue until Thursday, February 7, and called for adequate measures to be put in place so as to curb the effect of the flood.
"The town of Ingham, north of Townsville, received 506 mm of rain in 24 hours between Saturday and Sunday, of which 145 mm fell in just one hour," Blazak said.
The flooding incident hits in about the same day that flight operations activities were put to a halt in one of the busiest airports in Australia.
The Queensland state police officials have revealed that one of Australia's busiest international airports have was been shut down due to a bomb threat.
The passengers at the airport were threatened when a man brandished a knife and made a bomb threat at a food joint.