Sources: Lawyers Meet Kyari To Delay Onnoghen's Trial On Monday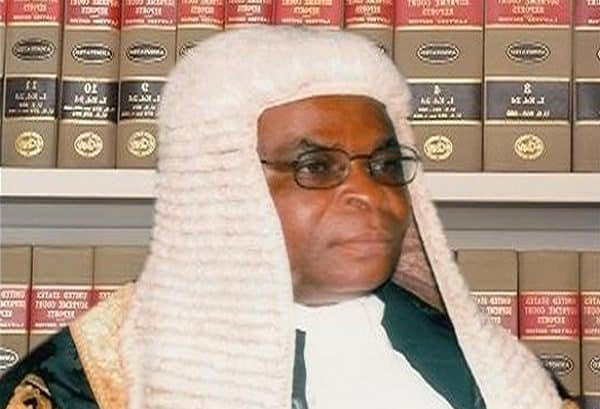 Lawyers Intensifying Effort To Seek Soft-Landing For Onnoghen.
In a bid to stop the trial of the suspended Chief of Justice of Nigeria, CJN, Walter Onnoghen, on Monday, Lawyers representing him have visited the Chief of Staff to the President, Abba Kyari.
This is even as Naija News understands that the Vice President Yemi Osinbajo and some members of the National Judicial Council recently met to seek soft landing for the embattled CJN.
Also, recall that the The CCT had adjourned trial of the CJN till Monday, February 4.
Sources disclosed that the visit  of the lawyers to Kyari which took place on Thursday was led by Onnoghen's lead counsel, Chief Wole Olanipekun (SAN), who is a former President of the Nigerian Bar Association.
Olanipekun was also Muhammadu Buhari's lead counsel when the President faced accusations of certificate forgery in court.
One of the lawyers told Punch that the main aim of the meeting was to stop Onnoghen's arraignment on Monday.
Already, Onnoghen has been served with a notice of hearing by the Code of Conduct Tribunal, which means by law he is mandated to appear at the CCT on Monday.
A source at the meeting said, "We met with Abba Kyari around 10pm on Thursday because we knew he would guarantee our access to the President.
"Our aim is to protect the exalted office of the CJN. The CJN must not sit in the dock on Monday, because doing such will demystify that office. The National Judicial Council is already attending to the case and a decision will be taken next week.
"All we are asking is that the case on Monday be delayed until after the NJC has made recommendations and in the event that he is recommended for dismissal, let him resign honourably and let the charges against him be withdrawn."
The source said Kyari was told that although the allegation that the CJN failed to declare the assets in question was true, it was not true that Onnoghen had 50 houses as reported by some sections of the press.
He said, "Kyari said he would relay our message to the President. However, he did not hesitate to inform us that the President did not want Onnoghen back as the head of the nation's judiciary."
When asked if the visit would not appear as a perversion of justice, the source said, "The CCT is under the Presidency. The CCT chairman is also facing charges of corruption by the EFCC. The way the CCT chairman has been behaving shows that Onnoghen's coffin has already been nailed."
Meanwhile, Onnoghen has been served with a hearing notice by the CCT, Niaja News learnt.
The notice dated January 31, 2019, read in part:  "Take notice that the above mentioned case (Federal Republic of Nigeria and Justice Onnoghen) has been listed for hearing at the Code of Conduct Tribunal sitting at CCT Head office/court complex situated at Plot 89 Sector Centre B Cadastral Zone B 16, Solomon Lae Way, beside FCT High Court, Jabi, Abuja on February 4, 2018."
Source: Naija News