Nigerians React As Oby Ezekwesili Withdraws From 2019 Presidential Race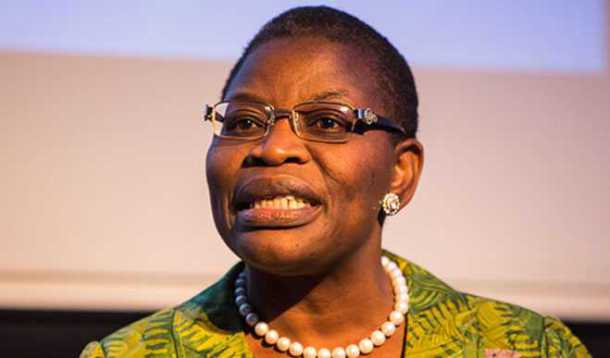 Oby Ezekwesili, Allied Congress Party of Nigeria (ACPN)'s presidential candidate, has withdrawn from the February 16 presidential election, Naija News can authoritatively report.
Mrs Ezekwesili as earlier reported by our correspondent had explained that her decision to step down was in a bid to help build a coalition viable of defeating the All Progressive Congress and the Peoples Democratic Party in the election.
Meanwhile, Nigerians have taken to Twitter to express mixed feelings about the development.
See some reactions below:
If 170 million Nigerians allow themselves to be fooled, trust me I'm the only person who won't be fooled. The likes of Omoyele Sowore, Oby Ezekwesili, Fela Durutoye and Kingsley Moghalu DO NOT have the interest of Nigerians at heart… THREAD #TheCandidates

— Victor B (@iamVictorB) January 23, 2019
Mrs Oby Ezekwesili withdraws her 2019 Presidential candidacy. Thank you for putting the people of Nigeria 1st. I'm proud to be part of the few who believe we need a new way of doing things in Nigeria. I hope a viable 3rd force will come soon. As for me, I am tired of the oldies. pic.twitter.com/q8ruAovenC

— Bhadmus Hakeem (@Bhadoosky) January 24, 2019
Oby Ezekwesili never stood a chance, a nice thing she stepped down from the race.

Sowore doesn't stand a chance, Moghalu doesn't stand a chance.

Brilliant guys, but lack the requisite political structures to win an election.

Their journey to Aso Rock in 2023 should start now. pic.twitter.com/puNMaprCgn

— The Mouth That Eats Salt & Pepper ? (@Manlike_ED) January 24, 2019
The truth is that Oby Ezekwesili has no electoral value, she can't even win her local government. Infact, Kingsley Moghalu, Oby, Sowore and Fela can only defeat PDP & APC in a debate not on ballot

— Your Village People (@Onyema_Donald) January 24, 2019
Oby Ezekwesili bows out of Presidential Race, Madam Oby has just destroyed the hopes of Nigeria having a female president ???

— Suzzette (@queensuzzette) January 24, 2019
Enough of tyranny, corruption and incompetence. PDP and APC must go. These parties are a summary of all the problems we face in Nigeria. Let us put Nigeria first.
I will be voting Prof. Kingsley Moghalu for president#ItIsTime #ToBuildANation
Cc Oby Ezekwesili durotoye sowore pic.twitter.com/liqcScN9Yw

— Obinna Nwosu (@obi_Nwosu) January 24, 2019
Oby Ezekwesili Should be made to account for the donations she received or all money received in all her campaign accounts or we tag this corruption . pic.twitter.com/dYRHk1HmKk

— Award Winning Wife (@bimbo_cash) January 24, 2019
Lmao ?… wait hol'up

Oby Ezekwesili is stepping down to build coalition???

This people don't even have sense sha ???

A combined Oby, Moghalu, Sowore, Fela cannot win a senate seat

???

— Being Human is not Enough (@realdanielemeka) January 24, 2019
OBY Ezekwesili Steps down from the presedatial race?….wish Fela, sowore, moghalu, donald duke , would also step down for just one candidate tho ? pic.twitter.com/QVtp5qZ5xt

— JUSTDOIT9JA ❁ (@justdoit9ja) January 24, 2019