Nigerian Senate Holds Plenary Without Meeting Quorum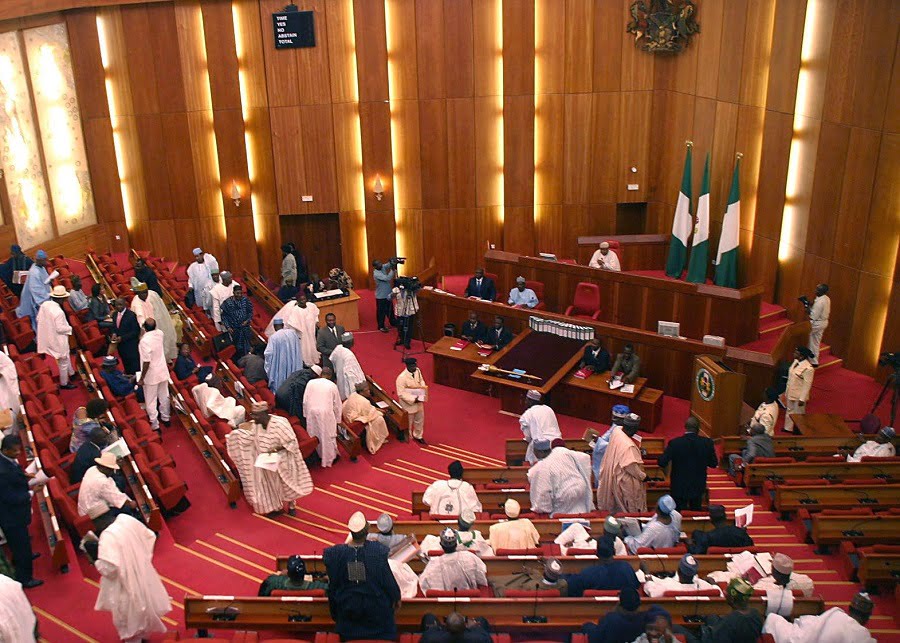 The Nigerian Senate has held it's plenary session today against its standing order which stipulates that one-third of its members is required to form a quorum.
To proceed with legislative business of the day, the Senate requires at least a quorum of 36 of the 109 senators.
Naija News understands that as at 10:33 a.m., the time the lawmakers adjourned to over inability to form a quorum on Tuesday, none of the senators was present at the chamber.
The day's business was opened at 10:51 am, with just nine of them.
To wait for others apparently, the Senate President, Bukola Saraki, delayed reading of previous day's votes and proceedings for the previous day till 11:11 a.m.
Irrespective of this, the Senators continued with items on the order paper.
The absence of the lawmakers can be attributed to political activities which have taken full gear in many states, Naija News reports.
#TodayInSenatePlenary pic.twitter.com/rUhwGHXupb

— The Nigerian Senate (@NGRSenate) January 23, 2019
Meanwhile, in another development, the President of the Senate in the Third Republic, Senator Ameh Ebute, has blamed conspiracy theories promoted by some well-placed Nigerians for the narrative that the government of Muhammadu Buhari was responsible for the escalation of the farmers/herders conflict in the country.
He stated this at a roundtable with MPs of the British Parliament, January 23, 2019, at the House of Commons, London, United Kingdom.
Senator Ameh Ebute delivered a position paper titled "Tackling the Violence between Livestock Farmers and Cultivators in Nigeria" before an audience that consisted of Chairmen and Members of committees of the British Parliament on Human Rights, Defense, Environment, as well as African Ministers, and a cross-section of a delegation from Nigeria. He posited that "violent clashes between two sets of farmers in Nigeria, cultivators, and livestock farmers have been a major feature of the Nigerian security landscape since 2003. These clashes escalated in late 2017 with the massacre of over a hundred people at Agatu in Benue State. 2018 witnessed a further deterioration in the violence."
"While a responsible government has a solemn obligation to ensuring the safety of its citizens and implementing policies and programs that engender peaceful co-existence among its ethnic, regional and religious diversities of its population, it must ensure too that crisis between any two groups of its population is not exploited for the selfish and nefarious purposes of its detractors."
Senator Ebute further argued that the administration of President Muhammadu Buhari was able to make substantial gains in the fight against terrorism. "Boko Haram was routed from its Sambisa Forest stronghold.
The Nigerian military recaptured Mubi, Gwoza, Baga and other major cities and villages that had been overrun by Boko Haram. Coordinated attacks by the air force and the army seriously degraded the fighting capabilities of Boko Haram."
"Recognizing the regional dimensions in Boko Haram activities, the Buhari administration initiated a multilateral approach to fighting against Boko Haram by entering into a regional alliance with the neighboring states of Niger, Chad, Cameroon and the Republic of Benin. Hundreds of thousands of Nigerians who had fled to those neighboring countries in the wake of Boko Haram seizure of their towns and villages returned to Nigeria."
Download NAIJA NEWS app: