Agree With FG On 27,000 Minimum Wage: TRCN To NLC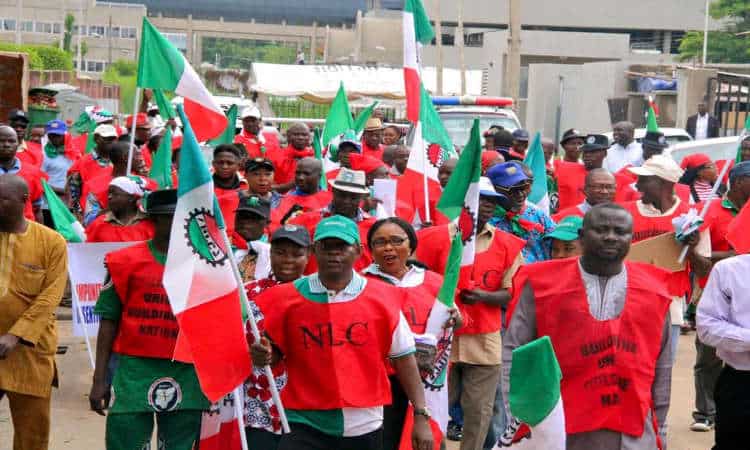 TRCN Reacts To Labour's Rejection Of 27,000 Minimum Wage
Prof. Josiah Ajiboye, Registrar, Teachers' Registration Council of Nigeria (TRCN), has urged the Nigeria Labour Congress (NLC) to accept the Federal Government's N27,000 minimum wage offer.
Ajiboye, who gave the advice in an interview with the News Agency of Nigeria (NAN) in Abuja today, commended the Federal Government for offering its workers N30,000 minimum wage.
This is as Naija News reports that the National Council of State, presided over by President Muhammadu Buhari, yesterday, approved N27,000 as the new national minimum wage. 
The Minister of Labour and Employment, Dr Chris Ngige, however, disclosed that the Federal Government was topping the approved amount by N3,000 for federal workers.
Recall that NLC  in reaction rejected the amount, noting that It is abysmal of government to be delaying the submission of an Executive Bill to the National Assembly and by wrongfully adopting N27,000 through the council of states,"
The TRCN Registrar, however, said the approval by both the Federal Government and National Council of States was a right step in the right direction.
"I think the government has taken a very big step especially the Federal Government.
"Apart from the Council of States approving the N27, 000 as minimum wage from the N18,000 which has been operational since 2011, the Federal Government has also promised to top the approved N27,000 for its own workers by N3,000.
"This is a good development and if the states are able to faithfully implement the N27,000 ,I believe very strongly it will create a big leverage for our workers especially our teachers because it will serve as motivation for them to do more.
"Everyone agrees that things are very tight for us in the country; so any increase in salary will boost the morale of the workers especially, teachers."
Ajiboye called on the National Assembly to expedite action on the passage of the bill when presented to it to make the new minimum wage become a reality.
In reaction to labour's rejection of the approved N27,000 minimum wage, Ajiboye said that the leadership of the organised labour would have a rethink based on the current economic reality.
"I think they will have a rethink because agreements are not cast in stone; definitely they are subject to review and I believe labour will see this as a big step first.
"There is a clause that the minimum wage will be reviewed every five years and that is what we should be working towards.
"So, in the next two to three years, we will begin to work on how to review the situation.
"I think labour will be persuaded at the end of the day as a reflection of the current reality of our economy and look forward to moving higher at a later date," he said.
Meanwhile, Naija News reports labour has summoned an urgent meeting for Friday to discuss and adopt a common position on government's new N27,000 minimum wage proposition.
Source: Naija News