Plane Carrying Emiliano Sala, Cardiff New Striker Goes Missing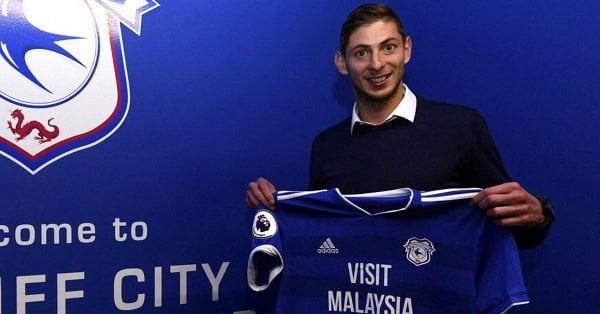 Emiliano Sala, Cardiff City's new record £15million signing, was on board a missing private jet from Nantes to the Welsh capital.
A major search operation is underway after the light aircraft disappeared from radar near the Casquets lighthouse on Alderney in the Channel Islands, Mirror Football reports.
The report quoted Guernsey Police as saying that the Piper Malibu – a single-engine plane carrying a pilot and the Bluebirds' record signing – has been missing since 8.30pm on Monday night.
Naija News understands that the sad development has sparked serious concern from Sala's new club Cardiff, who released a statement early on Tuesday morning to reveal they are awaiting more news before saying anything else on the matter.
Cardiff City chairman Mehmet Dalman said: "We are very concerned by the latest news that a light aircraft lost contact over the Channel last night.
"We are awaiting confirmation before we can say anything further. We are very concerned for the safety of Emiliano Sala."
It was learned that the private plane was flying from Nantes, France, to Cardiff, sparking fears that the player could be on board.
Cardiff Airport confirmed the aircraft was due to arrive from Nantes but a spokeswoman said there were no further details.
Guernsey Police said: "Searching for the light aircraft PA 46 Malibu resumed at 8 am this morning. No trace has currently been found. It was en route from Nantes, France to Cardiff, Wales with 2 people."